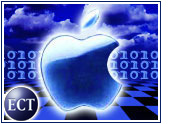 Apple Computer has accomplished a raft of goals since Steve Jobs returned to its helm in 1997. It has revolutionized the consumer PC with two generations of iMacs; pioneered the so-called digital hub concept, which gives consumers the ability to assemble movies as well as catalog and manipulate digital photographs; introduced the iPod, considered by many Mac and Windows users to be the best digital music player ever developed; and recently launched the iTunes Music Store, which allows users to pay for and download songs without being tied to complicated subscription agreements or limitations on how purchased media can be played.
But there is one area that Apple, with all its creativity, has still not been able to conquer. The company's share of the desktop computer market continues to hover at between 3 and 5 percent, the same as it was back in the pre-Jobs dark days.
With all of its new products and services, can Apple finally entice enough consumers to break through this computer-sales glass ceiling? Or, perhaps more intriguingly, do its new offerings make such a question moot?
Does Apple Care?
Adam Engst, publisher of the Mac community newsletter TidBits, told the E-Commerce Times that he believes the company is not concerned with breaking a certain percentage of market share.
"Apple wouldn't complain if it happened, but they're not making the kind of marketing moves necessary to increase market share," he said, "probably because those moves generally hurt revenues, and revenues are what matter in the end."
He added that if Apple can earn revenues in related markets, such as hard drive-based MP3 players and online music sales, desktop market share will not be as critical as it once was for the company.
Perhaps Apple Does
On the other hand, Meta Group vice president Steve Kleynhans told the E-Commerce Times that he thinks Apple still cares about increasing its market share.
"Take a look at overall revenues [for the iPod and iTunes Music store]. It's a small fraction of what Apple makes on Macs themselves," Kleynhans said. "iPod for Windows is still not a huge revenue generator, and consumer electronics traditionally is not a margin-friendly market."
Moreover, no business model for selling music downloads has proven profitable, he said. Although Apple has been able to pinpoint the right business model in the past, its success is not certain — especially given the heavy competition in this space — which should inspire a wait-and-see attitude.
"Apple still believes in the Mac business. It's central to its overall strategy," Kleynhans said, adding that until the iTunes Music Store can achieve a certain level of profitability, "we need to view it as marketing to push more Macs."
iTunes You Out
However, Engst pointed out that the company sold 2 million songs in the two weeks following the iTunes launch. Most buyers of those tunes were Mac OS X users with high-speed Internet connections — just a fraction of the overall Mac user population. Not bad for what is so far a niche product — the Windows version of iTunes is not slated for launch until this fall.
Bryan Chaffin, publisher of The Mac Observer, told the E-Commerce Times that although Mac sales will remain Apple's central focus, the fact that no one has gotten the online music distribution equation right thus far means the company has a great opportunity to make money doing so, whatever the competition tries.
"Profits from the sale of Windows iPods can pay for a lot of R&D on the iPod as a whole, with plenty left over for the bottom line," Chaffin said. "The same will go for the iTunes Music Store for Windows, where users from that market will turn the music operations into a major profit center for Apple, while also [enabling it to sell] yet more Windows iPods."
He added, "Many think that the iTunes Music Store is not intended to be a profit center in its own right, but those people do not understand how the iTunes Music Store will shape, and be shaped by, the evolving music industry."
Windows to the Mac
Chaffin went on to say that gaining a 10 percent share of the PC market is probably extremely important to Apple.
"At 10 percent, Apple will have much more power to shape the marketplace, drive technologies and have input on what becomes a 'standard' and what doesn't," he noted.
The best way to achieve that goal? Convincing Windows users to switch platforms. In addition to subsidizing its Mac operations, Apple's commercial Windows offerings introduce the company's technology and digital hub concept to people who otherwise might never get a taste of it, Chaffin explained.
Kleynhans agreed that products like iPod for Windows and the upcoming Windows version of the iTunes Music Store make the Mac seem less like an unknown quantity to Windows users.
Will that newfound familiarity help Apple surpass the 5 percent barrier? The answer may be determined within the next couple of years — and if it is a resounding yes, Apple's future may be not just bright, but insanely great.