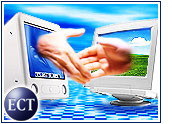 Nearly six years have passed since Microsoft agreed to invest US$150 million in Apple Computer and continue developing Mac versions of its Office application suite for at least five years.
In the intervening period, both companies have experienced many changes. Apple has transformed from a moribund entity whose doom was foretold by countless pundits into an innovative niche player — the high-tech equivalent of a luxury carmaker. And Microsoft has weathered several years of antitrust litigation, maintaining its operating system and business application hegemony while simultaneously evolving into a dominant player in the nascent Web services space.
After the agreement between the two companies expired in August 2002, a new pact was not signed. Microsoft continues to produce Office software for the Mac OS, but Apple recently has released products that could indicate it is trying to free itself from the software giant's occupation of much of its prime desktop real estate.
Is Apple seeking independence from the Redmond, Washington-based superpower?
Safari Keynote
Earlier this year, Apple introduced two applications for its Jaguar (OS X version 10.2) operating system: Safari, a Web browser that has received plaudits despite its beta status; and Keynote, a stand-alone presentation application that offers an elegant alternative to Microsoft's own PowerPoint product.
Adam Engst, the publisher of Mac community newsletter TidBits, told the E-Commerce Times there is no question that Apple is targeting Microsoft's weaker offerings with its new software.
"Neither Internet Explorer nor PowerPoint had been significantly improved in quite some time, and both stand alone more than Word and Excel," Engst said. "Frankly, it makes a lot of sense for Apple, because it's extremely awkward for a company to be reliant on its primary competitor for key pieces of application software."
Finding a New Office
Engst explained that he believes Apple is on track to provide a substitute for Microsoft Office, and that Keynote is the first piece in this puzzle. He noted, however, that this strategy existed even before Keynote's introduction. Apple's "Mail" e-mail application, introduced for OS X and radically upgraded in the Jaguar update, replaced Microsoft's Outlook Express as the default Mac e-mail client.
Whether Apple can provide its users with a viable business productivity suite is another matter. Michael Silver, vice president and research director of hardware and operating systems at Gartner, told the E-Commerce Times that compatibility issues hamper development of an Office alternative.
"Making something that offers 100 percent compatibility with Microsoft Office is nearly impossible because of the proprietary code embedded in so much of it," Silver said. Because compatibility is such a key concern in today's Windows-centric world, any Mac productivity software will need to integrate seamlessly with its Windows counterpart in order to succeed.
"If Apple could achieve 100 percent compatibility with Microsoft, it could be very interesting," Silver said. "I bet there are many people who would love to find an alternative."
Independence vs. Reliance
Bryan Chaffin, editor of Web site The Mac Observer told the E-Commerce Times that it remains to be seen whether or not Apple will release a supercharged version of AppleWorks, or some sort of "iOffice" product, as part of an overall strategy to go head-to-head with Microsoft in the productivity market.
"My gut feeling is that Apple doesn't so much … want independence from Microsoft, but rather to end reliance on Microsoft," Chaffin said. "The former isn't all that realistic considering Microsoft's monopoly power, but the latter will turn Microsoft into a competitor on the Mac platform that has to earn its money."
Does Microsoft Still Need Apple?
Chaffin added that even though a new agreement between the two companies is improbable, Microsoft still has incentive to continue developing Office for Mac OS.
The Redmond, Washington-based software giant "makes a lot of money on the product, and it is one of the few things they can sell to non-Windows-using Mac users," he said. "For a company seeking to perpetually increase revenues and profits, cutting off a revenue stream … that Office offers just doesn't make sense, unless it is done in retribution. The same goes for Virtual PC for Mac and Microsoft's other Mac offerings."
Gartner analyst Silver noted that in addition to the profit incentive, Microsoft still wants to avoid doing things that appear to stifle competition. Its continued support of Office for Macintosh is a means to help deflect future accusations of this nature.
So, the cords that connect Microsoft and Apple, though tenuous, appear to be holding steady. Whether they will weaken in the future remains to be seen, but whatever the outcome, signs point toward a changing dynamic between the two sometime allies.