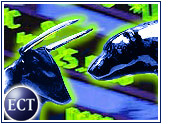 Here's a day in the upside-down life of a CIO: She reads a bunch of news articles about deflation on the train and gets depressed about the economy, then takes a phone call from a pollster and tells him she's not planning any new technology buys. Later, near the end of the day, she tells her staff to enter an order for a bunch of Gigabit Ethernet cards. Such is the quixotic landscape in which tech is struggling to make a comeback. Economic data show modest signs of recovery, but the outlook of many tech buyers remains sour.
We've entered an age of tech buying in the absence of hope. With no real signs of strong growth in the economy, CIOs continue to spend even as they declare their intentions not to spend. Call it the era of the Unproject. In the wake of grand schemes like e-commerce and reengineering the corporation — buzzwords that no longer have cachet — IT shops are undergoing intense consolidation. The stuff they're willing to buy is what can be had at a bargain price. That signals consolidation of IT products and services, and it suggests the winners will be those companies that can combine the most revenue-generating products in the most comprehensive basket of offerings.
Good News Is No News
On the face of it, the numbers don't make sense. The Federal Reserve Bank of Philadelphia released data two weeks ago showing that more firms in the mid-Atlantic region — lower New Jersey, Pennsylvania and Delaware — had registered an increase in manufacturing than a decrease.
However, the same report featured a survey of firms' buying decisions regarding plants and equipment that yielded a rather dismal outlook. Just one-third of firms said they plan to increase purchasing in the next 12 months, while most (42.2 percent) said they intend to leave spending unchanged, and one-fourth expect to spend less.
Yet, although CIOs seem reluctant to spend, buying still is ongoing. The Census Department on Wednesday released figures for orders of durable goods that showed a 1.2 percent increase from April to May for computers and software. Merrill Lynch analysts wrote in a recent report that this figure is above historical averages for the season. Likewise, the Bureau of Economic Analysis of the Commerce Department said in its most recent GDP report that on an annualized (read: averaged) basis, sales of computers and software to companies were up in the first quarter, at about $103 billion, compared with just under $100 billion per quarter on average last year.
How do you square CIOs' tight-fisted attitude with the mild encouragement of the economic numbers? For starters, the Bureau's numbers also indicate there is not much growth with a capital "G" — the kind of job-creating revenue growth that spurs companies to make significant investments in IT. In addition, the Bureau's GDP report last Thursday showed the value of goods and services produced in the first quarter rose by just 1.4 percent — flat with the last quarter of 2002. Sure, it's an increase, but it's hardly the kind that tells IT managers they're back to the races.
Follow the Money
Sure enough, if you look at the numbers, you can see that spending has shifted from pie-in-the-sky projects to more conservative ventures. High-end Internet routers that move telecom traffic across the infobahn used to be the priority for debt-backed telco firms. However, according to research firm Dell'Oro Group, that market saw just $343 million in sales in the first quarter, and it grew just 2 percent quarter-over-quarter. A related market, dense wavelength division multiplexing (DWDM) — optical networking gear that was once all the rage — is set to grow a mere 7 percent, or $200 million, over the next five years, Dell'Oro says.
Instead, sales of products to consolidate file storage into more orderly networks have taken center stage in corporate buying. The market for host bus adapters, which are used to connect servers to fibre channel networks, grew 8 percent in the first quarter compared with the same quarter a year ago, according to Dell'Oro. Switches for those storage networks, or SANs, sold by the likes of McData, Brocade, Inrange Systems and QLogic, grew 15 percent from the first quarter of last year, to almost a billion dollars.
The results also show that some buyers are only making purchases as prices fall within their range. For example, Gigabit Ethernet has been growing nicely for several quarters now, but the latest data from Dell'Oro shows that a 43 percent rise in the number of ports shipped resulted in only a modest increase in revenue quarter-over-quarter because of a 10 percent drop in the price of those ports.
Who's Profiting?
Even for winners, a non-growth market is a hard one in which to turn a profit. A recent Merrill Lynch report on Brocade, the leading SAN vendor, noted that although the company is holding its own against new entrant Cisco Systems, the latter is nonetheless threatening the health of Brocade's market by becoming a loss-leader, willing to give away switches to gain market share. More evidence, for sure, that Cisco and Brocade's customers look at buying these days as being more about finding deals and less about investment.
CIOs seeking bargains are not the type to forecast big spending projects, hence the cautious tone of those CIO surveys. Does that mean the future belongs only to Linux and other free applications? Not necessarily. The BEA's figures still show that $100 billion is earmarked for technology each quarter. That amount won't support numerous software and router vendors, but it will support a few large companies with defensible product lines, which is why you're seeing Oracle talking about consolidation in enterprise software. If the current slow-growth approach persists in the second half of 2003 despite the recent U.S. tax cut, even fewer vendors will try to bundle even more specific capabilities in their software and hardware offerings. By the end of the year, you could get a Power Mac G5 that's also a network router, firewall and CRM system all-in-one.
---
Note:
The opinions expressed by our columnists are their own and do not necessarily reflect the views of the E-Commerce Times or its management.
---