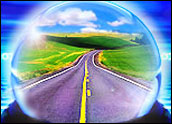 Trying to find anyone willing to forecast a vigorous rebound in 2003 technology spending is like searching for a nonexistent needle in a haystack. But it is almost as hard to find someone who thinks tech spending has anywhere to go but up.
Overall, most analysts and high-tech bellwethers — at least those willing to commit to a forecast — expect to see a modest but noticeable uptick in 2003. But most also say the recovery may not start to flex its muscles until the second half of the year.
"There will be some more spending, but it's not going to knock anybody's socks off," Yankee Group chief research officer Brad Hecht told the E-Commerce Times. "There is no technological innovation that everyone is clamoring to get. Without that, you'll get incremental spending to maximize what companies have spent the past five years accumulating."
Not So Fast
That focus on making existing systems more efficient means that investment-dependent sectors like telecommunications are likely in for another rough year. But areas in which companies can reap significant returns from a small capital outlay, such as the software industry, may fare somewhat better.
In terms of hard-and-fast numbers, research firm Gartner came away from its annual meeting of technology executives predicting 7 percent annual growth in IT spending. And after conducting a survey of chief information officers, Merrill Lynch said a rebound is likely to take hold in the late second or early third quarter of 2003.
Mixed Forecasts
Among top technology companies, forecasts have been mixed. After reporting a blockbuster first fiscal quarter, Microsoft warned that the rest of 2003 will not be so impressive. And in recent weeks, Computer Associates and Ericsson both used earnings announcements as an opportunity to lower their 2003 forecasts a notch.
But others see light at the end of the tunnel. IBM chief financial officer John Joyce said recently that the company believes it can meet current expectations, which call for Big Blue to generate US$87 billion in revenue next year, up about 7 percent from this year's levels.
Turning a Corner
In fact, the better earnings news that buoyed Wall Street after a dismal summer will pay off for technology companies, Ned May, program manager for worldwide research at IDC, told the E-Commerce Times.
"As bottom lines improve, companies will feel more comfortable making IT investments," May said. "But it will be gradual, especially at first."
Of course, all of these forecasts carry the usual qualifiers, including caveats that war with Iraq could postpone any uptick. And although several forecasts have predicted that federal government spending in the United States will increase in 2003, most industry observers are hedging their bets when it comes to the private sector.
IDC, meanwhile, believes the long-range outlook remains positive, with an eventual return to double-digit annual growth to occur within the next five years. "We will get back to some real solid growth across the tech sector," May confirmed. "It will just take some time."