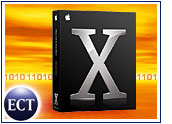 Apple's new server OS, known as Panther, is slated to launch before year's end with new capabilities that will be "awesome solutions for an awful lot of customers," according to Apple server software director Tom Goguen.
While it is not surprising to hear Apple referring to its products as "awesome" or "cool," the company's new Panther offering may put it on a level with Unix, Linux and Windows Server — at least in technical terms. Will Panther Server's release also help the company gain much-needed mind share?
My Mac Does Run Windows
Goguen listed a number of "killer features" in Panther that could make the Apple Xserve a workable alternative to such big names as Dell and IBM.
For starters, Panther Server fully supports Samba 3, an open-source product that natively runs Windows protocols. Not only does Samba enable support for mixed workgroups and creative departments, Goguen told the E-Commerce Times, but small businesses running Windows-only clients can set up Panther Server easily without having to pay Microsoft client-access prices.
The Mac Server platform grants unlimited client access with a single license, he noted, whereas Microsoft Windows Server does not.
"Now it's becoming quite reasonable to have some Macs in an environment with Windows and Unix without a whole lot of pain to anyone," Illuminata senior analyst Gordon Haff told the E-Commerce Times.
Open Directory Changes
The new server OS also gives users a new version of Open Directory that uses Berkeley DB as its database for its underlying directory server, and it supports MIT Kerberos KDC (Key Distribution Center), which offers single sign-on capabilities while providing improved network security.
Goguen added that Open Directory 2 supports not only redundant configurations, but also the ability to run multiple servers.
For his part, Haff said one of Panther Server's strengths is its streamlined setup and configuration.
"It offers a very organized set of tools, and it follows in Apple's path of really well thought-out design, rather than a lot of pieces that don't really fit together, like Windows or Linux," he explained.
Big Config Boost
Specifically, Panther's updated Server Admin application can run remotely from a system administrator's desktop computer to configure and monitor the server, according to Goguen. This tool also supports a graphical interface for DNS server, file and print, and network address and translation (NAT), among other services.
Haff said Apple's development of these new administration tools illustrates a shift in the company's focus from client setup to setup of multiple servers.
Enabling easy configuration of a large number of servers makes sense for Apple, he added, given that the Xserve is a 1U rack-mount server designed to be configured in multiple server increments.
Targeting the Enterprise
So, what is Apple's end goal with Panther?
"Open Directory 2, better support for Windows clients, much-improved e-mail server support, and improved NetBoot and network install features suggest that Apple wants [to move] into large corporate networks," Bryan Chaffin, publisher of The Mac Observer, told the E-Commerce Times.
"These features [should] have a lot of appeal to systems administrators for larger networks that haven't traditionally employed Macs," he added.
Chaffin said he has received increasing amounts of anecdotal evidence from sources indicating that since the Xserve's introduction, systems administrators have been buying individual units for experimentation purposes.
"I expect that trend to continue and grow with the addition of the G5 and Panther Server to Apple's stable," he noted.
Building from the Core
For his part, Goguen said Xserve and Panther Server's primary audience for now is limited to those who already use Macs. He noted that the server market is traditionally conservative and that Apple plans to build up its reputation in this arena via its core markets, such as creative departments.
However, Chaffin said that although Apple is still an unknown quantity in much of the corporate market, Panther Server could entice more businesses into trying the Xserve.
"The new tools and features in Panther Server, coupled with the G5, especially once Apple introduces a G5 Xserve, are going to make more people sit up and want to check it out," he said.
As Panther's launch date approaches, therefore, enterprises might be wise to keep an eye on this stealthy newcomer. Although nothing is a given in this tight IT spending environment, Apple's new server OS could be poised to pounce.