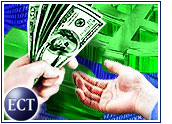 Hoping to extend its popularity into the small and mid-size business arena, eBay has formally launched a new section called eBay Business.
The section currently features about 500,000 product listings, focusing heavily on office technology products, such as computers and networking devices, as well as wholesale lots of consumer goods and services, such as insurance and shipping.
Both fixed-price sales and eBay's traditional auction format will be used, and items may be sold by either individuals or corporations.
Going Vertical
The site also features several vertical marketplaces for specific industries, ranging from construction and metalworking to laboratory and food services.
But Morningstar.com analyst David Kathman said eBay likely will have a hard time breaking into specialty business-to-business (B2B) sales categories.
Most large industries already have well-established online exchanges, many featuring auction-style pricing formats, he said. Those exchanges are often staffed with industry experts. Meanwhile, several companies that bet heavily on the B2B marketplace, such as software maker Commerce One, have fallen on hard times.
"EBay could get more into less specialized areas of B2B, and they already have people on there selling things like truckloads of wholesale merchandise, which presumably only a retailer would want to buy," Kathman told the E-Commerce Times.
Growth Engine
Despite those natural limitations, Kathman said, "EBay's B2B-oriented business has the potential to be a significant part of their revenue in the future, though I don't expect it to be huge right away."
The B2B market eBay is eyeing is certainly fertile ground. According to a quarterly review from the Institute for Supply Management and Forrester Research, 84 percent of large companies now use the Web to purchase materials and services. In addition, the overall percentage of purchasing conducted online increased steadily during 2002, the review noted.
Consolidate and Conquer?
EBay's business sales site launch echoes the company's recent efforts to consolidate items that are often scattered across its network into more logical locations. Last year, for example, eBay moved all of its sports-related items, including game tickets, memorabilia and sporting goods, to a single store.
And in the midst of the 2002 holiday sales season, the company created an electronics shop, bringing together personal computers, photography and video game products. The company also promised to feature free shipping offers — a move many analysts saw as eBay's most direct challenge to date to Amazon.com.
"Amazon and eBay are becoming more and more alike," Gartner research director Geri Spieler told the E-Commerce Times. "Every time one of them makes a move, it inches them closer to the exact same place."