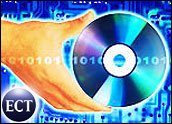 In this tight economy, data managers no longer have ablank check when it comes to managing their company'senterprise storage, yet data needs continue to expand. How can enterprises do more with less? More to the point, how can companies walk that fine line between spending too much or too little?
There is no one-size-fits-all formula to achieve equilibrium, but there are several steps IT managers can take to help their company reach its data storage goals.
Under the Microscope
The first step is to understand how well the enterprise is managing its existing storage assets. Nancy Marrone, a senior analyst with Enterprise Storage Group, said that in the past, when a company was running out of storage capacity, the answer was simply to buy more. As a result, most companies tended to operate without really knowing how effectively their capacity was being utilized.
"With today's economy and IT budgets where they areright now, those in charge of the money are lookingmuch more closely at their storage expenditures, andsystem administrators must now justify their expenses," Marrone told the E-Commerce Times. After all, it is not easy to justify capital expenditures if a company's data is scattered across islands of storage, its quality is questionable, and administrators do not know how the system uses its resources.
Because no two companies have the same enterprisestorage needs, Marrone said, there is no simple costequation that every data manager can use to justifyadditional purchases. A company may already have a huge storage budget, but that does not necessarily mean it does not need more. Even a small business may need a seemingly outsize amount of storage if it deals with large quantities of dynamic data.
How It All Began
To understand how enterprise storage has evolved, EMC spokesperson Justin Bartinoski told the E-Commerce Times, it is important to remember that in the early 1990s, the majority of enterprise data was stored internally on servers. A few years later, external storage devices came into vogue. Servers were assigned to fill specific departmental needs, such as billing or e-mail, and storage arrays were attached to them. This development greatly increased storage capacity, but on the downside, it created departmental islands of company data.
Because systems were disconnected, companies found it difficult to audit their existing resources. If they discovered that one department was only using40 percent of its capacity while another was using 90 percent, there was no way to redistribute those resources. Today, companies can use SAN (storage area network) or NAS (network attached storage) boxes tocentralize storage and evenly distribute workloads.
Gerald Longoria, product manager for Dell's storage system division, said that in the last few years, he has found that his customers want to understandexactly what they have and then evaluate how well it is being used. Without the granular control that comes from centralization, he noted, it is difficult to achieve capacity utilization and maximize ROI.
"CIOs are telling us that the enterprise storage area is an area they will continue to invest in," Longoria told the E-Commerce Times. "Even though budgets are scrutinized and held flat in some cases, their storage needs are still growing, and they're looking for better alternatives."
Cleaning House
Once a company has centralized access to all of its storage, Marrone said, it is time to take a hard look at its data and begin cleaning house. She said most storage is filled with nonessential data, duplicate files and customer records that have not been accessed for years. Although this is a daunting task, Marrone said there are now tools available to help IT staff assess, reclaim, clean up and redistribute storage resources. "You really should use networking in conjunction with tools that let you drill down and see how effectively you're using your storage space," she noted.
Marrone also said this cleaning process will help companies determine the relative value of each piece of data. Important information can be stored on disk, replicated somewhere else in case of mishap, then mirrored in a backup system. But even important data eventually can be moved onto cheaper storage, along with other nonessential corporate information.
"It's not so much that companies under-spend on storage, but when they under-spend on the management of that storage, they can run into significant problems," Marrone explained. "If you can effectively figure out how to store data according to businessrequirements, then you can truly determine what your budget for storage should be. It's going to be totally dependent on the value of data to your business."
Once data-cleansing is complete, it is critical that companies repeat the process within an information life cycle, she added. Too often, according to Marrone, companies do not review their policies and practices frequently enough, and they become antiquated. "One of the biggest mistakes people make is that they put a process in place and then forget about it. A business is an ever-changing environment."
Pinpointing Data Costs
At this point, a company can begin to realistically evaluate how effectively its storage is being used and can redistribute its capacity. Enterprise Storage Group senior analyst Tom Lahive told the E-Commerce Times that utilization is key to determining whether a company is spending too much or too little on storage.
"If you're using less than 40 percent, the 60 percent that you're not using isdepreciating at over 35 to 40 percent a year, so you've spent all this money and you're not getting any value out of it whatsoever," he said.
Lahive added that while an enterprise is evaluating its storage resources, it is important to determine the robustness of the corporate backup environment. Many companies have backup procedures that extend into their primary business hours, or their procedures are shoddy, outdated or incomplete. Lahive said they also may have created detailed recovery procedures prior to September 11, 2001, but have not reviewed those processes since then.
Tracking It to the Root
Once armed with all of this information, Marrone said, IT managers will begin to find the root causes of data problems their company may be experiencing, such as performance degradation or repeatedly missed backup windows. Knowing these root causes allows execs to determine what types of tools, hardware and software can help — and in these tight times, vendors are eager to help customers sort out their options.
One such tool is Dell's Storage Consolidation ROI Analyst tool, which Longoria said can walk customers through the process of gathering information and assessing their current situation. The software details a company's storage ROI, shows the total investments made in storage by the company, displays system storage utilization and calculates the current cost of managing corporate data.
On the Fine Line
One company that has worked to put together all the pieces of the data storage puzzle is Hire.com. Bill Hancock is director of technology at the four-year-old company, which must store millions of resumes for its corporate customers as well as HR tracking information for each candidate. This data is extremely dynamic, and access speed is critical, he said.
Hancock noted that in the early days, Hire.com focused on doing only what it needed to do to keep going. But as the company's data storage needs ballooned, IT staff began to question the importance of the information they were collecting and the need to store it.
"It was painful getting where we are today," he told the E-Commerce Times. "It was a lot of work, but we're a better shop for it now because we can look at any part of ourinfrastructure and know exactly how much it's costing us a month." Once you know exactly how much something costs, he said, you can calculate how much downtime you can afford. "What's it going to cost if it goes away? What happens if you have a Microsoft Exchange Server with internal drives, and e-mail is the lifeblood of the company, and you don't have robust redundant storage, and it goes down? Everyone in the company stops working for a day, and that's a pretty fair amount of money."
Keeping It Running Smoothly
Hancock said Hire.com continually monitors its condition using a tool called Proactive Net that tracks which sites are down, performs root-cause analysis andcorrelations, and helps the company determine which budget cycle to put expenditures in. "If a cluster of servers is reaching a certain capacity point, it tells us it's time to add more storage," he said.
When asked about the best way to determine if a company is walking the fine line between spending too little or too much on enterprise storage, Hancock said: "It's all in the metrics. The best way is to metric everything so you know exactly how much every data bit is costing you."
Once IT executives at a company have metrics and growth estimates to work with, Hancock said, they can make good business decisions. For Hire.com, the answer is simple: "If you don't have a system that can scale and grow and always be there, you're not spending enough."