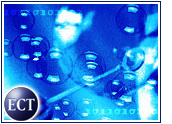 Amid an overall high-tech slump, the unglamorous yet vital data storage sector has fared strikingly well. Even as IT buyers have struggled with meager budgets and analysts have forecast scant growth, storage giant EMC's stock price has doubled. Recently, though, a prominent name in the data storage field, StorageNetworks, released a thunderclap of bad news: Two board members had resigned in the wake of a revised business plan and the elimination of 80 jobs last fall.
Do StorageNetworks' woes indicate the start of a sector-wide problem, or is datastorage still an oasis in a barren technology landscape?
Not Immune
Data storage is not totally immune to industry-wide IT issues. Building abusiness case for technology purchases keeps getting harder. Balancingbudgetary caution, though, is the irrefutable need for more — and morenavigable — storage.
Dan Tanner, director of storage research at Aberdeen Group, told the E-Commerce Times that the trend toward more and better storage must continue, especially in industries subject to regulations that include information backup. "More data than ever is being stored. You only have to look at the financial and health industries, which have mandated backup storage."
But small cracks in the sector's apparently invulnerable shell have shown recently,besides the StorageNetworks bombshell of March 5th. Anders Lofgren, seniorindustry analyst at Giga Information Group, told the E-Commerce Times that storagestartups are having a rough time. "We hear about startups shutting theirdoors," he said, though he noted, "That's not surprising because there are so many out there. The vast majority of startups won't survive."
Lofgren added that these companies' demise likely says more about the nature of startups than the robustness of the storage sector.
Finding an Angle
Furthermore, although analysts consulted for this story agreed that StorageNetworks' troubles indicate possible cracks in the subsector of storage services, they do not foreshadow a weakening of the combined hardware, software and services that make up the storage industry as a whole.
"StorageNetworks was involved in providing storage as a service. The worstthing [in the storage sector] during the past year has been a meltdown ofthe service model," Tanner said.
In response, StorageNetworks has remodeled its business around its relationship with EDS, providing the computer services giant with storage software products. As such, StorageNetworks effectively is shifting its weight from services to software.
Consolidation Blues
But Giga's Lofgren also pointed to contraction through mergers in all portions of theindustry, which no doubt is making it harder to shift gears as StorageNetworks is attempting to do. "We've seen consolidation of the major hardware business, as with Hewlett-Packard and Compaq," he explained. "Only a handful remain. They really have to be pushing the volume to make up for [slim] margins."
In addition to consolidation in each subsector, a type of cross-sector blending is transpiring, in which hardware companies are eating software players' lunch. "The other part [of the storage equation] is delivering software that increases the value of hardware, so hardware vendors have become major software vendors," Lofgren noted.
Brad Nesbit, senior research analyst with IDC, agreed with the primacy ofsoftware that makes hardware more usable. "Users are calling out for thingsto be easy," he told the E-Commerce Times.
However, independent software providers still can build a case on their platform-neutrality, as StorageNetworks now must do, according to Lofgren. "Independent software vendors are not going away," he said.
The iSCSI Factor
Meanwhile, the data storage field is abuzz with another development that could spur growth: the recent ratification of iSCSI, atopography standard that promises to break down the barrier between direct-attachedstorage and area network (detached) storage. The Storage Network Industry Association (SNIA) has just finished its long-awaited final version of the standard, but analysts are conflicted about its significance and timetable.
"I expect an explosion of iSCSI in lower-end SANs (storage area networks),"Aberdeen's Tanner noted.
Lofgren agreed that iSCSI's ascendance is inevitable but said he foresees sloweradoption. "iSCSI is going to happen. It's a when, not an if," he observed. "The evolution of iSCSI has taken longer than people expected, and we learn that lesson over and over. There are cost and complexity issues with any fibre channel technology."
Growing Strong
The bottom line, however, is that even with mergers, company-specific jockeying for position, and a general budgetary malaise throughout enterprise computing, the storage sector remains robust. Earlier this month, IDC released sales figures for data storage equipment in the fourth quarter of 2002, spotlighting 12 percent growth from the previous quarter to US$5.4 billion. This sales momentum pushed year-long figures for 2002 beyond projections, though it must be noted that the sector did suffer anoverall sales decline from 2001.
Though such a decline could indicate a tepid sector, Aberdeen's Tanner remainsundaunted. "I expect storage to heat up," he said. Data storage may not be a sure bet, but it is in far better shape than most other sectors — and that is saying a lotthese days.