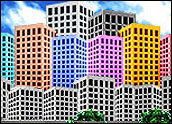 Big enterprises are obvious sales targets for technology vendors. For bothhardware and software providers, landing a big installation that affects thousands of workers is like hitting a home run. But the current economic climate is a stiff wind blowing in from the outfield, turning those prospective homers into long outs. Another strategy — the one-base-at-a-time approach — is needed.
Small and medium businesses (SMBs) provide an ideal field for that new strategy,and technology vendors are turning to them with increasing frequency. Is the SMB sector the new promised land? And what are the pitfalls on both sides of the emerging relationship between small business IT and tech providers?
Combined Forces
Traditionally, technology providers have built their balance sheets on keyrelationships with large buyers. But these important buyers are no lessvulnerable to economic conditions than small companies are. With ITpurchasing severely constricted and forecasts calling for limited buyingthrough 2004 — not to mention gnawing uncertainty about the businessramifications of imminent war — those key relationships are no longersufficient.
Practically, there is no such thing as a key relationship with a small business,except perhaps for a startup vendor. But as a constituency, SMBs represent50 percent of the IT marketplace, according to Yankee Group senior analystLaura DiDio. With that kind of clout, selling to the SMB sector as a wholecan be, in itself, a key relationship.
Promised Land
Every analyst consulted for this story confirmed that selling to SMBs is notso much a choice as it is a necessity.
"Is the small business market a promised land? Yes, that's the ticket,"IDC research manager Marilyn Carr told the E-Commerce Times. "Technology isbecoming more accessible in terms of cost. Medium enterprises can now affordmore and better technology than they've ever had before. Historically, they've been served by homegrown solutions and have not really embraced enterprise software. Now they are starting to."
Denis Pombriant, vice president and managing director at Aberdeen Group, agreed, telling the E-Commerce Times that the technology adoption curve is becoming more granular,reflecting a shift away from the monolithic enterprise market and into the swarming SMB market. "Our research shows that the torch is being passed from early adopters to the early majority," he said.
Vendor Risk
But the willingness of small IT departments to upgrade technology does not mean vendors will have an easy ride through difficult times. Large providers must develop new products or repurpose existing ones. Also, vendors of all sizes are faced with dispersion of their marketing resources among thousands of potential accounts.
"There are tons of micro-verticals around, from a chiropractor's office to asmall manufacturer," IDC's Carr said. "They essentially want the same thingsthat larger enterprises want, but their [specific] requirements are quitediverse. One size doesn't fit all."
Vendors can ameliorate risk to some extent by focusing on a distinct groupof companies wedged between the enterprise and small business markets — theso-called midmarket. From a starting point in the midmarket, a technology provider can strategize to scale upward or downward as economic conditions dictate.
Providers also can distribute risk by initiating partner programs fordevelopers. For example, Intuit, a financial application provider, furnishes marketingand technology resources to small developers as a way of extending its reach into the SMB sector. The company does not get involved in direct support of its partners' customers, according to Carr, who recently published a research report on the program. However, it does give technology suppliers a competitive edge in hooking into existing back-end applications at small enterprises.
Buyer's Risk
But the real risk falls on buyers in small and mid-size IT departments.
"When old technology is delivered in a new wrapper, that can createproblems," Aberdeen's Pombriant said. "Often, SMBs can't use allthe functionality in the box. It's not … an embarrassment of riches. Youhave to find what's relevant to your business. The vendor has a responsibility for making sure the product is tuned to small businesses."
While product quality is one issue, administrative resources representanother headache for a small IT department. "The product must be easy toinstall and use and support," Carr noted.
SMB Spotlight
Risks and difficulties notwithstanding, the full-court press is on in theSMB sector, and that does not seem likely to change anytime soon. The combinationof a tight economy and the natural trickle of technology from big early adopters to smaller, opportunistic adopters puts the SMB sector squarely on the vendor radar screen.
"Everybody is turning full force to these folks," DiDio said. "Enterprise is tapped out."