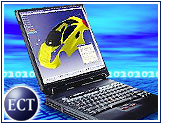 IBM on Tuesday launched a new fleet of computer systems designed to meet the price and performance needs of the small business and education markets.
Big Blue's Personal Computing division introduced several new ThinkPad notebook and NetVista desktop models, featuring Intel Pentium 4 processors and IBM e-business solutions, such as wireless networking, advanced security and application management.
The new products can be taken as a sign that the PC maker is not rethinking its long-term commitment to the small- to mid-size business (SMB) market, according to IBM worldwide product manager Tom Ribble.
In fact, Ribble told the E-Commerce Times: "We see growth not just in PC sales, but also in providing SMBs end-to-end solutions, consulting and global services. Our notebook configurations are an extension of that."
ThinkPad Specs
The new ThinkPad R32 family features the Intel Mobile Pentium 4 processor with an upgradeable 1.6 GHz chip. The entry-level ThinkPad R32 sells for US$1,649 with a14.1-inch display, 256 MB of RAM and a 20 GB hard drive.
More feature-rich models sell for $1,899 and include DVD-ROM and WiFi wireless networking. A third model that packs IBM's Embedded Security System sells for $1,974. Additional features, such as FireWire and USB (universal serial bus) ports, are also available.
IBM also introduced a bare-bones ThinkPad R31 with Intel's 1.13 GHz Celeron processor at $1,299.
New ThinkPad A31 and A31p models incorporate Pentium 4-M processors and a security system, along with IBM FlexView display technology and, on select models, both WiFi and Bluetooth wireless capabilities.
The New IBM
After years of targeting SMBs, analysts said that Big Blue is becoming savvier in its marketing by making more tactical use of features.
"The old IBM used to pile everything into machines, make them horribly expensive, and then couldn't understand why no one would buy them," Gartner Dataquest vice president Leslie Fiering told the E-Commerce Times. "The new IBM is much more focused on specific customer groups and providing a viable technology package at a target price."
IBM is properly focused on the SMB market, Fiering added. The segment continues to spend, even as large enterprises tighten the technology purse strings.
Firewire Fanfare
The addition of FireWire should make the new machines more attractive to the education market and could even attract consumers looking for high-end machines.
"For the education market, we've added extra battery life," said Ribble. "FireWire is also a big play for students that use multimedia and cameras in the classroom."
New NetVistas
New desktop models were also introduced. NetVista A30 and A30p models feature the Pentium 4 processor with Intel Extreme Graphics, DDR memory and a variety of optical drives.
Those A30 models sell for $799 and $889, respectively.
IBM also unveiled the NetVista M42, its fastest desktop model, which has all the standard features of the A30 line and sells for $1279.