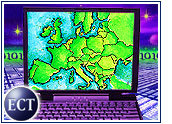 The complaints are essentially the same, but the venue is different. Microsoft is under attack again for leveraging its monopoly and bundling its products, but this time its lines of defense are concentrated on the European front.
The European Union Antitrust Authority has been pursuing an investigation into the software giant's business practices for three years. The case, which had been drawing to a close, gained additional steam recently when a new complaint was fired into the fray by the Computer and Communications Industry Association, a U.S.-based trade group that was disappointed with the outcome of the U.S. antitrust settlement.
In fact, it seems that so far, Europe's antitrust investigation has been more tenacious than the one in the United States. Why is that — and how much muscle does Europe have to bring down one of the world's most powerful companies?
The Microsoft Mentality
Does Europe hate Microsoft? That might be too broad an assessment. But TedSchadler, principal analyst with Forrester Research, told the E-Commerce Times thatMicrosoft's succeed-at-all-costs mentality might engender more hostilityacross the Atlantic than it does in the United States. "Microsoft is not as naturally respected in Europe as it is here."
Residual anger directed toward the company also might be driving the European investigation. Microsoft lost friends in many nations when it instituted Licensing 6, an expensive upgrade program that savaged some IT budgets. And the full impact of Licensing 6 has not even been felt yet; that will happen when many previous licensing agreements expire in 2004.
Victim of the Era?
Microsoft's amicability quotient, and its standing in the European investigation, also might be damaged by two aspects of the present historical moment.
First, Europe is in the thick of a targeted open-source movement that worksagainst all sorts of proprietary software vendors. Yankee Group senior analyst Laura DiDio said she believes that academic and government organizations are embracing open-source solutions most vigorously.
The second, more nebulous factor is a broad anti-U.S. sentiment incited byschisms in NATO and the U.S. war effort. "That certainly isn't helpingMicrosoft at all," DiDio told the E-Commerce Times, "and unless the looming war withIraq is somehow miraculously averted, Microsoft and other big-name Americancompanies may be victimized by anti-American sentiment."
The Long and Winding Case
To date, Europe's case against Microsoft has been built around the bundling of Windows Media Player into Windows 98. The CCIA is going out on a limb by introducing unrelated complaints centering on Windows XP's integration of such functions as online messaging, wireless networking and media creation, in hopes that it will give the European Union more ammunition with which to fight Microsoft. Whether that plan is sound remains to be seen, but one near-certainty is that insertion of new elements into the case will delay its resolution.
Whatever happens, the CCIA's charge has set an unusual, and perhaps unique, precedent intrans-oceanic antitrust relations. No eyebrows would be raised if a U.S. alliance were tackling a European company. And the European Union's investigation of a U.S. company is not odd. But Giga Information Group research fellow Rob Enderle told the E-Commerce Times, "This is an unprecedented instance in which U.S. vendors are going after another U.S. vendor in Europe."
Cross-Pond Drama
So, will the CCIA find success in Europe after failing in the United States? The drawn-out U.S. antitrust suit was a headache for the Redmond, Washington-based software giant, but in the end, Microsoft suffered barely more than a slap on the wrist, agreeing to open some of its source code and abide by a few other restrictions.
Now, the CCIA has pinned its hopes on some sort of enforced unbundling. In short, the group would like to see Windows — and preferably Microsoft itself — taken apart. But the chances of this outcome depend on how much cross-pond power is vested in the European Union. What authority does Europe truly possess when it comes to regulating a U.S.-based company's business practices?
European regulators represent a huge market that is closely aligned withAmerican cultural values. On that basis alone, Europe regulatory powershould not be underestimated. Forrester's Schadler noted that it was aEuropean investigation that brought down GE's prospective acquisition ofHoneywell.
Annoyance, Not Danger
Still, the quick answer to the power question is this: Europe has the powerto fine Microsoft, but not to break the company apart. Aggressive fining might prompt conciliatory settlement terms, but Microsoft is not in danger of legislative restructuring.
Microsoft should not take the new complaint lightly, however, Schadler said. Instead, the company must combat it with the same vigor it brought to the U.S. courtroom battle. Then, "the ultimate impact will probably be fairlylow. The annoyance factor will be quite high."
With no critical need to move quickly, the European Union could keep thatannoyance factor in play indefinitely. And that might be the best result theCCIA can hope for.