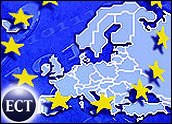 Microsoft's rivals have opened a new front in the battle over the software giant's alleged monopolistic behavior, saying Windows XP violates existing European antitrust law.
The Computer & Communications Industry Association (CCIA) said Monday that it had filed a new complaint with the European Commission. The group, which counts AOL, Sun Microsystems, Nokia and Yahoo! among its members, claims "new and widespread violations of European competition law" and is asking the commission to "restore competition to the markets that Microsoft now dominates."
XP at Issue
At the heart of the conflict is Microsoft's bundling and tight integration of programs within Windows XP, which the CCIA said has enabled the company to achieve dominance in markets for e-mail clients, media players, instant messaging services and even Internet portals and online advertising.
Specifically, the CCIA's 20-page complaint to the EU argues that Microsoft's dominance of desktop operating system sales amounts to a virtual monopoly and that the software maker has used that market power to defeat competitors in other areas.
The group also expressed its frustration over the settlement between the U.S. Department of Justice and Microsoft, saying it "failed to remedy the anticompetitive behavior."
Home Defeat
Indeed, the CCIA turned its attention overseas after suffering a legal defeat in the ongoing appeal by two states of the Microsoft settlement with the U.S. government. A judge said the group did not have sufficient standing to take part in the appeal and that civil actions would be a more logical remedy.
CCIA president Ed Black told the E-Commerce Times that the issues at hand are much the same in both instances: "Consumers need to have choice, and that can't happen unless there's vigorous competition." He said the European filing is occurring now because it took time for the results of the Windows XP launch late in 2001 to become obvious.
Ripple Effect Unlikely
The new complaints are unlikely to affect an ongoing EU review of Microsoft and its impact on the consumer computer market in Europe. That case is expected to conclude early this year, though Microsoft has yet to make a final settlement offer. However, the company did say last year that it was willing to reveal some source code to rivals to enable them to make compatible applications.
Indeed, Giga Information Group analyst Rob Enderle said Microsoft would like to use the U.S. settlement to put the European case to rest as well. "They're going to want the decks cleared before they release their next family of software in a year or so," he told the E-Commerce Times. "The distraction factor will be ratcheted up the longer it drags out."
Microsoft did not immediately respond to requests for comment.