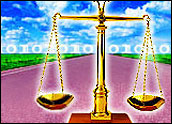 Saying it has cleared the way for even more innovation, Microsoft hailed Friday's ruling that an antitrust settlement reached with the U.S. Department of Justice (DOJ) is punishment enough for its past misbehavior.
Investors seemed to agree, sending Microsoft shares up 7 percent in early trading Monday to US$56.84, after the stock also soared in pre-market trading.
The ruling was handed down by U.S. District Court Judge Colleen Kollar-Kotelly, who rejected stiffer punishments sought by nine states. Those non-settling states believe the agreement struck with the DOJ last year does not go far enough to prevent Microsoft from continuing to act like a monopoly.
Kollar-Kotelly made only minor adjustments to the existing agreement, which Microsoft claims it has already begun to follow.
Under the Microscope
At a news conference Friday, Microsoft chairman Bill Gates said the ruling represents a "fair resolution of this case." He said a compliance officer will be named and employee training put in place to help ensure the ruling is followed by the entire company.
"We recognize that we will be closely scrutinized by the government and our competitors," Gates said. Indeed, the focus is turning to new licensing agreements Microsoft reportedly is seeking from rivals that want their products to work with Windows. Sun reportedly filed a complaint with the DOJ over the new agreement.
Although he seemed positive about the ruling, Gates did not rule out an appeal, saying attorneys were still reviewing the decision as of late Friday.
Appeal Watch
But an appeal by the nine states, including California and Connecticut, that did not sign on to the original agreement seems far more likely.
The attorneys general of those states have yet to comment on the ruling. In a statement, Sun Microsystems special counsel Michael Morris described the steps taken by Microsoft to address antitrust concerns as "weak" and said he hopes the case will not be closed. "We believe that the non-settling states have ample grounds to appeal this decision," Morris said.
Experts say that even if the U.S. ruling stands, Microsoft is far from out of the legal woods.
Europe on Deck
In fact, a European Commission official has told reporters that the U.S. ruling should not be considered a road map for the outcome of antitrust action in Europe.
European regulators have focused on slightly different products and issues, such as whether the software maker's desktop dominance helped it take over the server market.
Legal experts were split, meanwhile, on whether the latest ruling will affect private lawsuits filed by Sun, Netscape and other Microsoft rivals since the federal antitrust case began more than four years ago.
"Are our legal issues over? No, of course not," Microsoft general counsel Brad Smith said in the conference call. "A number of cases remain, and we also have a five-year process ahead of us in which our first priority has to be to live up to the obligations of that decree."