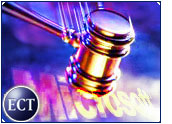 Microsoft has won another legal victory as a judge has barred two industry groups, backed by several of Microsofts rivals, from appealing the settlement the software giant reached with the U.S. Department of Justice on antitrust charges.
U.S. District Court Judge Colleen Kollar-Kotelly said the Software and Information Industry Association (SIIA) and the Computer & Communications Industry Association (CCIA) lack the necessary legal standing to appeal the settlement.
Kollar-Kotelly added that the ongoing antitrust action is the government's case, not a private action. She noted that both groups are still free to file civil actions against Microsoft, and she pointed to recent court actions in private suits brought by rivals as evidence that alternative measures may be effective.
"Nothing prevents them from pursuing their own antitrust suits against Microsoft," Kollar-Kotelly wrote in her decision, which was made public Monday. The ruling leaves two states, West Virginia and Massachusetts, alone in their attempts to have more stringent penalties imposed against Microsoft.
The CCIA quickly announced it will appeal the decision. President Ed Black said the group will push for full court review of the "defects in the government's settlement."
Billion-Dollar Payout
Meanwhile, Microsoft announced late last week that it will pay US$1.1 billion to settle a string of class-action suits filed by consumers in California. Those actions, which alleged unfair trade practices that hurt consumers and which had been rolled into a single case, were set to be the subject of a trial starting next month in San Francisco.
Instead, Microsoft agreed to the payout, which means consumers who bought Microsoft operating system software between February 1995 and December 2001 will receive vouchers to buy computer equipment. Depending on which software program they bought, consumers will receive vouchers worth between $5 (for Microsoft Word buyers) and $26 (for each copy of Excel purchased during the time frame).
Microsoft also agreed to donate software to needy California schools in an amount that equals two-thirds of all unpaid settlements in the cases.
Microsoft general counsel Brad Smith said the resolution will enable Microsoft to "focus on the future and building great software" while avoiding the "cost and uncertainty of a lengthy trial."
Narrowing Focus
Both the settlement and the antitrust ruling help reduce the weighty legal docket that some analysts have worried could hinder Microsoft as it seeks to maintain its massive market share.
The announcements come as the tech industry readies for Microsoft's latest earnings report, to be released Thursday. The company is coming off a first fiscal quarter in which it smashed expectations — but its executives have said that performance will be difficult to repeat.
Moving On
Some analysts believe Microsoft has already begun to show confidence that it can move beyond the antitrust actions, even if the two remaining states are able to keep legal proceedings alive for some time.
"They've done a good job of staying focused on the future, but it has to get easier every time another obstacle is set aside," Giga Information Group analyst Rob Enderle told the E-Commerce Times. "The fact that you see Microsoft behaving aggressively to gain market share in new areas points out that they still are in a battle."
In fact, Microsoft recently announced it would sharply lower prices for licensing its next-generation digital media streaming software. And just days later, company chairman Bill Gates unveiled a plan to extend Microsoft software to a host of new devices, including personal video players, in-car entertainment systems and so-called "smart" watches.