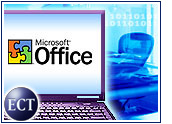 In a massive upgrade and testing initiative, Microsoft is set to release500,000 "beta 2" copies of Microsoft Office System, an enlarged andmodernized version of the company's office productivity suite. The beta release marks one of Microsoft's most extensive testing programs ever, and by far the largest test of an Office product. The commercial version of MicrosoftOffice System is slated for mid-2003.
In related news, Sun Microsystems has announced it will issue a beta release of its StarOffice productivity suite, version 6.1. StarOffice, a low-cost alternative to Microsoft's Office products, is a commercial version of an open-source application suite called OpenOffice.
Aiming at Enterprise
Although all Microsoft Office products are available on retail shelves forconsumers, Microsoft Office System is aimed squarely at the corporateproductivity market. The product is being positioned as a unified platformof applications and services, stretching from the front-end user to theback-end administrator, the intent of which is "to transform informationinto business impact."
To that end, Microsoft's press release identifies Windows Server 2003 as akey operating system on which to run Office System. Windows Server 2003 is scheduled to launch April 24th.
Microsoft also is pointing up its Windows SharePoint Services (WSS), aninformation-sharing environment built on Internet standards. A so-called Webservices solution, WSS enables relatively frictionless information management through a personalized Web portal, according to Microsoft. It is included in the Office System beta 2 release.
New Features
In addition to the traditional building blocks of the Office suite — Outlook,Excel, Word, Access and PowerPoint — Microsoft Office System also includesadditional components that either are new or were previously stand-aloneproducts:
FrontPage 2003: Microsoft's graphical Web-page designer and HTML editor
InfoPath 2003: A new information-gathering system that receives input toXML databases through standard Web forms
OneNote 2003: A new note-taking application
Publisher 2003: A new design application for creating marketingcommunications

FrontPage and InfoPath combine what Microsoft describes as "the world'sfirst" graphical XSLT (extensible stylesheet language transformations)editor. XSLT acts a bridge between an XML database on the back end anduser-input features on the front end.
Hitting the Right Note
Much of the analyst buzz surrounding Microsoft Office System is focused onOneNote. Though it might seem like a small add-on, rather like Notepad isattached to Windows, this program points to a new paradigm of front-endcomputing.
"OneNote has been developed to address tablet computing," Rob Enderle,research fellow at Giga Information Group, told the E-Commerce Times. "It fits thetablet metaphor and enables users to categorize, search for and find theirthoughts better than with pen and paper."
Unchanging Market Share
Meanwhile, although Sun's announcement coincided with Microsoft's, Yankee Group senior analyst Laura DiDio said Microsoft's key competitor is not StarOffice. "StarOffice will have appeal for the SOHO [small office and home office] market, but the overall market share won't change appreciably," she told the E-Commerce Times. Microsoft's marketshare of the office productivity field is at least 90 percent.
"Microsoft's biggest competitor is itself," DiDio added. "With the economicdownturn and the quality of Microsoft's earlier products, the challenge willbe to get customers, even those who would absolutely love to migrate, up andrunning. Customers simply might not have the cash."
DiDio predicted a 15 to 20 percent adoption rate during the first year, andshe emphasized that the fate of Windows Server 2003 will play a part in Office System's penetration curve. Enterprises still using Windows NT 4 on the back endmight see Server 2003 as a compelling upgrade opportunity, and they could scoopup Office System at the same time to realize the full potential of a more unified system.
New Paradigms
While the commercial fate of Office System remains to be determined, thereis universal agreement that Microsoft is aiming high with this product.
"This is a pretty important and substantial release," Yankee Group senior analyst Dana Gardner told the E-Commerce Times, "because it really changes the file structure and the ability of files to be shared. Given the wide adoption of XML in this product, Microsoft has given its software developers the opportunity to use Office applications as front ends in a way they didn't have access to before."
Giga's Enderle noted that Office System is the first version of Office thathas gone through the advanced security testing adopted by Microsoft nearlytwo years ago. "Substantial work has been done on Outlook," he said. "It is more reliable and less susceptible to network problems."
Backward Compatibility
However, though network integration and streamlined information flow are positive developments, a question of compatibility exists. Microsoft is including server elements in its Office System beta 2 distribution — but those elements will not be included in the final product, and enterprises will have to purchase them separately if they want a full upgrade of the front and back ends. Microsoft Office System is backwardcompatible with previous servers, however.
"The server upgrades are required to achieve the system's full potential,but [Office System] is, by itself, a vastly improved product," Enderle noted.