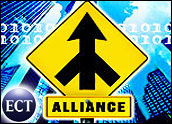 Hitachi and Oracle have announced they will strengthen an existing alliance, creating a partnership focused on improving integration of database management and information storage.
Specifically, the two companies, which have been working together for some time already, said they will strive to more tightly integrate Hitachi's Freedom Storage systems with Oracle's information management software.
In the Pipeline
The partnership's first product will be Hitachi DB Discovery for Oracle, a software library that enables administrators to more easily find and extract Oracle data files stored on Hitachi machines. The software is expected to be made available to customers this month, according to the companies.
Other offerings will focus on data backup and recovery, with Hitachi building products that work with Oracle's Backup Solution Program. An initial goal will be integration of Oracle's Recovery Manager interface with the ShadowImage replication function of Hitachi's storage units. The goal: to reduce the time required to back up and recover data.
Eager to prove that their products mesh well, the companies said they have verified compatibility between Freedom systems and Oracle9i Real Application Clusters. They also have performed similar testing for the operation of Hitachi's ShadowImage split-mirroring backup system.
Join the Crowd
The partnership announcement comes on the heels of a slew of product releases from storage giant and onetime dominant market power EMC.
EMC's new products, which include next-generation versions of its Symmetrix storage systems, are aimed at the high-end enterprise market, a valuable segment in which rivals like Hitachi and IBM have made significant gains.
And those are not the only competitors in this space. Last month, Microsoft said it would work closely with Hewlett-Packard to develop market opportunities for network-attached storage (NAS) technology.
"The storage market is in flux to the point where the best products and the most seamless integration with the rest of the enterprise will win out," IDC research director Charlotte Rancourt told the E-Commerce Times. "Hitachi has been growing its business at a time of stagnation in the market, so that means it is making gains at the expense of others."
Much of that boost came in connection with Hitachi's US$2.05 billion purchase of IBM's hard disk drive business last June, she noted.
Beyond Tech
In addition to technology development, the deal calls for the two companies to work together to provide support services and to boost marketing efforts aimed at wresting away market share in the large enterprise sector from other industry leaders.
Those efforts will include a worldwide rollout of a joint sales effort already under way in Japan, with China a likely first target, the companies said in a statement.
"Our customers want infrastructures that are simpler, faster and easier to manage," said Doug Kennedy, an Oracle vice president. "Data storage solutions have gotten more complex."