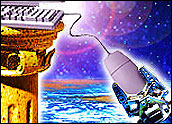 IBM has struck a deal to buy Rational Software for US$2.1 billion, continuing a lengthy acquisition spree that has focused on the software industry in recent months.
Under terms of the deal, IBM will pay $10.50 in cash for each outstanding share of Rational stock, a 29 percent premium over Thursdays closing price. The deal is expected to close in the first half of 2003.
Rational makes development tools that are used to customize software running a host of devices, ranging from mobile phones and routers to cars.
Target: Developers
IBM said the acquisition is part of its larger strategy to create a market for what it calls on-demand computing. Rational will become a division of the IBM software group, alongside WebSphere, Lotus, Tivoli and DB2.
IBM Software Group vice president Steve Mills said both the software industry and customers are "demanding software that is based on open industry standards and enables integration. This is an important aspect of IBM's On Demand strategy."
IBM said it is already a Rational user and that 98 of the top 100 companies in the United States also use the company's products.
IDC has predicted that the potential market for application development software will be worth $9 billion this year and will reach $15 billion within four years.
Sum and Parts
The purchase of Rational follows IBM's acquisitions of two privately held software concerns earlier this fall. The tech giant bought security management firm Access360 to boost its Tivoli line of products, and it grabbed business process modeling company Holosofx to beef up its WebSphere offerings.
Forrester Research analyst Nate Root told the E-Commerce Times that although all of IBM's purchases make sense, challenges remain when it comes to bringing them together into a market force.
"I think most customers still wonder about the big picture and how it all fits," Root said. "IBM has some big integration challenges ahead but seems to have a blueprint for making it work."
Buying and Selling
Big Blue's software-buying spree follows its earlier purchases in the consulting space. The company acquired PwC's consulting division in July for $3.5 billion and bought Internet consultancy Mainspring for $80 million.
The latest buying will be offset at least in part by IBM's sale of its hard disk drive business to Hitachi for just over $2 billion.