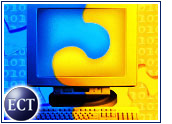 In a deal that might ultimately shift the balance of power among computer vendors, IBM will pay US$3.5 billion in cash and stock for PricewaterhouseCoopers Consulting.
Pascal Matzke, a senior analyst at Giga Information Group, told the E-Commerce Times that the acquisition is "actually a good match" that will give IBM a strong position in high-end projects against the likes of EDS and Accenture. Matzke also pointed out that the deal likely will have long-term ramifications, particularly for IBM competitors Hewlett-Packard and Sun.
"It clearly closes the gap in terms of IBM's own capability," said Matzke, noting that IBM will be taking over a healthy number of Siebel, PeopleSoft and SAP implementations.
"Other vendors are likely to lose their channel partners, HP and Sun especially," he said, explaining that PwC is a favorite of HP. "I think it is unlikely that IBM would want to support HP and Sun."
Bargain Pricing?
While $3.5 billion might seem like a lot of money in this flagging economy, it is a bargain price compared with the $18 billion Hewlett-Packard offered to pay for PricewaterhouseCoopers in 2000.
Matzke noted that it is unfair to compare today's purchase price with one proposed two years ago when market conditions were different, but he pointed out that PwC was "a bit sniffy about joining forces" with an equipment vendor at that time. Now, PwC's attitude has changed, with company bigwigs hailing the deal as a good fit.
Calling the acquisition a "bold move," Doug Elix, senior vice president and group executive of IBM's global services division, said the acquisition will offer customers "end-to-end solutions" for business issues.
"Improving business efficiency and effectiveness today requires much more than just management consulting, solutions services or IT outsourcing," said Elix. By joining with PwC Consulting, IBM is creating a division that offers "business insight, process change capability and information technology expertise."
Revenue Tempo
Both IBM and PricewaterhouseCoopers, the largest accounting firm in the world, have struggled in the sluggish economy. Not only did PwC's potential acquisition by Hewlett-Packard fall through, but its plans to split into two parts did not yield the hoped-for results.
Meanwhile, IBM, which has performed better financially than most of its computer industry peers, has seen its business — even in its highly profitable services unit — drop under increasing economic pressure.
IBM had a rough first quarter. Diluted earnings per share fell 31 percent from the year-ago period to 68 cents. Net income in the first quarter was $1.19 billion, a 32 percent decline from the $1.75 billion recorded in the same quarter in 2001.
At the time, IBM president and CEO Samuel J. Palmisano called the first-quarter results "disappointing" and blamed the results on the continued weak global business environment.
"Customers in every part of the world deferred technology purchases in the first quarter, and these widespread deferrals hurt us across every one of our major business segments," Palmisano explained.
Lots of Changes
Big Blue consequently has looked for ways to reduce its costs and increase its profitability. The company dumped its hard disk drive division, selling it to Hitachi for $2 billion. In addition, IBM has been laying off employees over the past few months. The company is expected to eliminate 9 percent of its workforce altogether.
IBM's global services division reported annual revenue of $35 billion in 2001. In theplanned acquisition of PwC Consulting, IBM will pay $2.7 billion in cash and $400 million in stock. PwC Consulting will likely report consulting revenue of $4.9 billion for fiscal 2002.
The PwC division has 30,000 employees who will be integrated with the business innovation services unit of IBM's global services division. The deal also will help IBM build greater muscle in outsourcing, "an area where we expect considerable growth," according to Matzke.
Acquisitions Past
IBM's last large acquisition was in 1995, when it bought Lotus Development for $3.2 billion. This is Big Blue's first major acquisition under the leadership of Palmisano, who took the helm in March of this year. The deal, according to Palmisano, will allow IBM to service customers from soup to nuts, "beginning with business innovation and extending through implementation."
Next, the purchase must be approved by PwC's national leaders, said Matzke. In the past, such deals have occasionally met with resistance at the local level, where leaders "might find other solutions or join with local consultant companies," he explained.
News of the acquisition drove IBM's stock price down slightly, from $71.79 to $71.26.