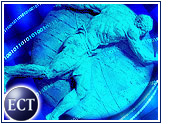 In a move to compete with rival Oracle's new 9i database management software, IBM has released a beta version of its new DB2 database.
The software is IBM's latest weapon in the battle for customer share in the US$12.7 billion database market.
IBM executives said version 8 of DB2 is faster and more reliable than its predecessor, with improved support for Web services, an emerging technology that allows companies to interact via the Internet.
"We are driving more of our research of autonomic computing initiatives into our portfolio," IBM spokesperson Lori Bosio told the E-Commerce Times.
Targeting the Mid-Market
In 2001, IBM snatched the lead in total new database sales, according to Gartner Dataquest. Now, Big Blue is targeting mid-market customers.
That is a smart strategy, according to IDC analyst Carl Olofson. "The middle-market is the fastest growing database segment," he told the E-Commerce Times.
"The new DB2 addresses the issue of managing large, complex databases for smaller organizations that are strapped for database administrator (DBA) resources," Olofson added.
Self-Healing Software
Most of the DB2 hype centers on so-called "self-healing" software, a feature that IBM calls the "Health Center."
Bosio said DB2's Health Center automatically updates DBAs on system performance, offers advice on problems that occur in the database or application supported by the software, and alerts DBAs when a fix is generated.
She noted that self-managing and self-tuning features are part of IBM's overall autonomic computing efforts, which are intended to ease the cost and complexity of database management.
"The Healing Center is an integral part of cutting down on how much day-to-day, minute-to-minute DBA work has to be done just in bailing out problems," Giga Information Group analyst Keith Gile told the E-Commerce Times.
Centralized Approach
Bosio said another key differentiator of DB2 is federated capabilities versus competitive offerings that promote a centralized approach to database management.
DB2's federated capabilities, which promote that centralized approach, enable customers to access, manage and analyze data wherever it resides. Bosio said this tactic allows customers to build on current technology infrastructure, increase scalability and reliability, and lower total cost of computing.
"Federated capabilities will allow someone from a DB2 environment to span multiple data types and sources via Web services," said Giga's Gile. "That's a significant move forward in trying to bring together many sources that are not just relational."
Like IBM, Oracle and Microsoft have seen their mid-market database sales grow. But some analysts seem to believe IBM has the advantage with its new DB2.
Oracle executives could not immediately be reached for comment.