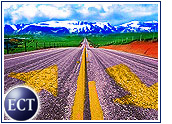 Cisco Systems sounded a familiar refrain in reporting its quarterly results, saying profits were up but sales declined as demand for its networking gear remained soft, forcing the company to scale back its efforts to develop next-generation products.
Cisco said net income for the quarter ended April 26th was US$987 million, a penny per share better than analysts had predicted and 35 percent above the $729 million recorded a year ago. However, revenue fell slightly, coming in at $4.62 billion compared with $4.82 billion in 2002.
While analysts applauded Cisco's ability to trim costs so quickly, some worried that most of the savings came at the expense of research and development. R&D spending at the San Jose, California-based company was down 13 percent in the quarter, CEO John Chambers said.
Outlook Okay
Pressed during a conference call to detail his outlook for the rest of the year, Chambers said he was unwilling to commit to a higher forecast but saw reason to hope sales would increase.
"If I were to say which was my bias, I'd say revenues flat with a slight upward bias," he said. "There are signs that our customers are slightly more optimistic than a quarter or two ago."
Cash and Carry
One impressive line on Cisco's balance sheet remains its cash stockpile, which ended the quarter at $20 billion, even though the company spent $2 billion to buy its own stock in the quarter.
Morningstar.com analyst Fritz Kaegi called the total "impressive."
"It gives them flexibility going forward, even though sales are still not where everyone would like them to be," Kaegi told the E-Commerce Times.
Cisco has been willing to spend its cash and use its stock in other ways as well, most recently scooping up Irvine, California-based home-office networking firm Linksys for $500 million.
Cisco said the home-networking market is poised to double in the next three years to more than $7 billion annually. The Linksys purchase came just days after Cisco bought phone-over-Internet software maker SignalWorks for $13.5 million. The quarter also saw Cisco finalize its $160 million acquisition of Okena, a maker of network security products.
Cisco noted that it kept busy on the partnership front as well during the quarter, inking a reselling agreement with EMC and sealing a deal with Yahoo to sell networking services to small and mid-size businesses.
Cisco Who?
The quarter also saw Cisco launch a worldwide marketing campaign, designed to get CIOs and other technology decision-makers to think of Cisco as a solution to their business needs.
The $150 million campaign includes radio, online and print ads as well as Cisco's first-ever TV ad campaign. It targets potential new markets for the gear maker, such as data storage and security solutions.
Cisco shares were down slightly in early trading Wednesday to $15.65.