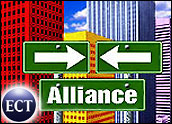 Cisco Systems has announced it will partner with Yahoo! to target its networking solutions toward small and mid-size businesses that previously may have thought the company's gear was too costly for them or that do not know where to turn for networking help.
The two San Jose, California-based companies will market Cisco's products through an existing Yahoo! site focused on small businesses, emphasizing gains in productivity, security and customer satisfaction that smaller companies can achieve as a result of improving their networking capabilities.
Seek and Sell
Financial terms of the deal were not disclosed. Both companies saw their stock trade fractionally higher early Monday. Cisco shares rose to US$12.92, while Yahoo! shares were up to $17.62.
Yahoo, which is widely used by employees on the job, makes a logical channel through which Cisco can reach businesses that otherwise might not have considered such a marquee name for their networking needs, according to Yankee Group senior analyst Helen Chan.
"A lot of businesses know and trust Yahoo," Chan told the E-Commerce Times. Even though Cisco is a well-respected name among larger enterprises, she added, smaller companies may not have the in-house expertise to know where to turn for networking gear. "Yahoo! offers a comfort level, and from there, the businesses might be more willing to at least get educated on what their options are."
Ready, Aim, Educate
The Cisco/Yahoo! site will feature packaged, industry-specific solutions from Cisco partners, such as IBM and Expanet, the companies said. It also will offer case studies on how Cisco products have been used by small and mid-size companies in a variety of industries, from healthcare and education to professional services and retail.
In addition, small businesses will be able to complete an evaluation, resulting in an e-business "road map" that will identify the networking solutions that best fit a company's current and future requirements.
Morningstar.com analyst David Kathman told the E-Commerce Times that smaller companies were penciled in by many equipment makers as key growth engines for sales as enterprise-level activity dropped off. While there is not much indication that spending by those businesses will pick up sooner than tech spending in general, he said, Cisco may be positioning itself for an eventual upturn.
"As things thaw out, those businesses might start to ramp up quicker than the larger ones that have already invested heavily in network gear," Kathman noted.
Mutual Friends
The Cisco/Yahoo! partnership comes just months after each of the companies signed separate deals with a third partner, SBC Communications.
Yahoo! linked with SBC last year in a bid to provide a co-branded high-speed Internet access product. Cisco has since partnered with SBC itself on a plan to encourage businesses to outsource their networking needs, offering a lower-cost alternative to building networks from scratch. That deal also saw SBC agree to use Cisco hardware on its network.
Yahoo! has been targeting small businesses for some time, ever since a sharp decline in online advertising revenue, starting in 2000, forced it to reconsider its revenue strategy. The portal offers a variety of communications products for businesses, including video streaming and Web conferencing. Late last year, Yahoo! unveiled a package of small business Web site hosting offerings.