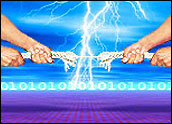 Is Yahoo! on track with its latest business strategy, or is it losing the focus that made it a force to be reckoned with in the online arena?
In the last year, Yahoo! has purchased HotJobs.com and rolled out a stream of services that use its portal-building and streaming media expertise to help corporations reach employees.
But the move that has raised the most eyebrows by far is Yahoos alliance with SBC Communications, in which the two companies are offering co-branded Internet service. First, the companies targeted the dial-up market, and more recently they waded into the market for DSL (digital subscriber line) high-speed access.
Buying Time
Most questions about the prudence of Yahoo's expansion moves were shunted aside by the company's third-quarter earnings report, which far exceeded expectations and seemed to indicate that Yahoo! might be poised to lead online media companies out of the woods.
Still, given that the company seems to have righted its fiscal ship, why would it want to jump into the telecom fray, especially at a time when telecom firms are among the only ones to have suffered more than dot-coms?
Forrester Research analyst Charlene Li told the E-Commerce Times that Yahoo! has a lot to offer consumers who are searching for a way onto the Web. Its dominance in the portal market makes it a logical candidate to offer online service as well, she said.
"Some of what Yahoo! does, like real-time stock quotes, really shines in a broadband environment," Li noted. "This is Yahoo! putting its best foot forward in a way."
On the Upside
The deal also seems to pose little risk for Yahoo, Li noted.
Under terms of the agreement, Yahoo! will provide content, personalization and customization features, as well as discounts on premium Yahoo! services, while SBC will provide the broadband access. SBC Yahoo! DSL hit the market last month in 13 states, with some 26 million potential customers. Yahoo! said it does not have recent figures on sales or adoption of the new service.
Financial details of the partnership have not been released, but Li noted that by setting an initial price for their offering that is lower than comparable services from MSN and AOL, Yahoo! and SBC may steal some market share from those two service providers.
Looking Ahead
Meanwhile, the upside for Yahoo! may be nearly unlimited, if it can convert its user base to broadband quickly while ensuring users' continued loyalty to the Yahoo! brand, IDC vice president Richard Villars told the E-Commerce Times.
Like a similar deal between Verizon and MSN, Villars said, the SBC-Yahoo! deal is a way for the portal to enhance its distribution channels, making it far more likely that consumers will embrace video-on-demand and other long-promised premium services as broadband becomes more widely adopted.
"Portals will have a lot of clout in the Internet of the future," he noted.