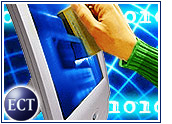 A few years ago, much content and many services could be had for free, even though the companies providing those services were not posting profits. But then the bills arrived, online advertising revenue dropped, and the free-content providers had to tighten their belts and look for other ways to make money.
To stay afloat, many of those companies have begun asking users to pay small fees for services that were once gratis. Although some companies have stumbled in this endeavor, analysts predict that charging for formerly free services is the wave of the future — if companies can handle the transition with aplomb.
Free No Longer
Free services used to be plentiful on the Internet, with many players, including Worldspy.com and Juno, offering no-cost Internet access and e-mail.
Internet users could obtain content even more easily from sites like Salon, which brimmed with high-quality articles. But hard times call for tough measures, and companies that depended on free-service or free-content models have had to adapt their approach.
As it turns out, charging customers for access to content or services seems not to be such a bad move after all. Giga Information Group research fellow Rob Enderle told the E-Commerce Times that although no company can be called a true success at collecting Internet fees, some firms have paved the way.
"AOL is based on this model," he said. "However, with their financial performance of late, saying [the model is] working may be a stretch."
Enderle pointed out that the fee-based model is working better than its free predecessor did, "but it is clear that the model still needs to mature so that the cost of acquiring and maintaining a customer is more in line with what that customer is willing to pay."
Customer Service
Not surprisingly, the move toward charging for services that were once free is not altogether welcome in the user community.
"There is some grumbling," IDC senior analyst Rob Rosenthal told the E-Commerce Times. "But the more it happens, the more customers are willing to go along with it."
Some companies that made the switch have felt the heat of consumer ire. For example, Salon's decision to make some of its content subscription-based caused a rash of heated debate over whether paid content could succeed.
Given the site's financial situation — the company was rumored to be on the brink of financial disaster just last month — it seems too early to declare the paid-content experiment a success, but at least Salon appears to have blazed a trail for other online content purveyors to follow.
Giving and Getting
The trick to preventing consumer gripes, according to analysts, is to enhance service offerings when adding fees. Providing the same service while changing only the fee structure is the easiest way to anger customers. On the other hand, if customers believe they are getting newer and better services, they may open their wallets.
"If you offer something for the money, you'll do better," Rosenthal said. "If you just say, 'Well, now it costs money and before it didn't,' then you might get some conversion rate from the most dedicated users, but how [many users convert] will be a crap shoot."
Two examples of this model are MSN's extra storage capabilities — which require users to pay more for additional storage space — and eBay's price structure, which lets customers choose which services they want to use.
"A few bucks a month for items that people want, like storing pictures or having more e-mail space, is something users can see the value of," Rosenthal said. "They feel like they're getting something of worth."
Future Fees?
Undoubtedly, analysts said, many companies will be watching Microsoft, AOL, Yahoo! and other service providers to see what works.
Enderle said he believes the next step for service fees will be online-only desktop applications that provide for-fee services like voice recognition and multimedia options. But for now, the growth rate of paid services remains an area that requires observation and invites speculation.
MSN, with its structure of both free and fee-based products, might offer the best indication of what users will see in the future. "Microsoft will likely be the best test of the transition process, but going from free to fee is never an easy path," Enderle noted.