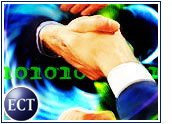 Yahoo! has expanded and extended a strategic alliance with Travelocity and parent company Sabre Holdings that will give Travelocity exclusive billing on the portal giant's Web site.
Building on an existing relationship that dates back to 1997, the new deal also calls for Yahoo! to provide "extensive marketing services" to Sabre. Sabre will use Yahoo's Enterprise Solutions unit to provide videoconferencing services to its 25,000 travel agents and 7,000 direct employees worldwide.
Delivering on Promise
Yahoo, which has partnered with Sony and other companies in the past, has been promising since last year to roll out additional corporate partnerships as it reduces its reliance on advertising and tries to boost its enterprise and corporate services division.
In addition to a revamped Yahoo! Travel site, the deal calls for the portal to receive a share of revenue generated when Travelocity books air travel, car rentals and hotel reservations through Yahoo.
Yahoo! also will develop a marketing program that includes banner ads, premium search listings and direct e-mail marketing, and the two companies will jointly develop new travel products.
Busy Day
Forrester Research senior analyst Henry Harteveldt told the E-Commerce Times that partnerships between travel sites and other online retailers are a logical fit. He cited Amazon's deals with Hotwire and Expedia and eBay's link with Priceline as examples.
"It's a nice fit from both points of view," Harteveldt said. "The Web site is offering another service to its users, and the travel site reaches millions more potential customers."
In fact, the Yahoo! deal is just one of several partnerships recently announced in the online travel space.
Priceline.com, which last month announced the addition of fixed-price travel deals to its lineup, said it has forged a deal with LastMinuteTravel to provide its trademark name-your-own-price services to that site.
Priceline said visitors to the LastMinuteTravel Web site and a co-branded AOL site now will be able to search fixed-price fares or bid for travel through the Priceline system.
Kissing Cousins
Meanwhile, Expedia and Ticketmaster announced more cross-marketing of their offerings. Ticketmaster said its CitySearch unit will develop a "Getaways Channel," where travel content will be combined with Expedia travel bookings.
In turn, CitySearch content and Ticketmaster event listings will be added to the Expedia site.
That deal, which involves two companies majority-owned by USA Interactive, came just a day after USA announced its intention to buy all of both companies as well as a third holding, Hotels.com.
Analysts have raised questions, however, about whether the 7.5 percent price premium USA is offering will be enough to close those deals, which could be worth up to $4.5 billion.