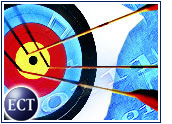 With travel sector heavyweights Expedia (Nasdaq: EXPE) and Travelocity (Nasdaq: TVLY) already busy with takeover deals, speculation has turned to whether Priceline (Nasdaq: PCLN) could be next.
The company has seen its stock price rebound after a steep drop following September 11th, but it is still trading well below most of its competition in the travel field. Priceline shares closed Friday at US$4.96, near the middle of its 52-week range of $1.80 to $10.35.
Morningstar.com analyst David Kathman told the E-Commerce Times that while takeover talk appears to be pure speculation, Priceline's stock price has fueled the rumor mill.
Depression Debate
"I think the market punished Priceline excessively in recent weeks, though it's now come back somewhat," Kathman said. "But this all may be moot if Priceline isn't interested in selling, because I'm not sure that any of these companies would want to launch a hostile bid."
Still, Kathman added, there appears to be no shortage of potential suitors, including travel players Sabre, Expedia and Cendant — which also owns Cheap Tickets — as well as online giants Yahoo! (Nasdaq: YHOO), AOL Time Warner (NYSE: AOL) and Terra Lycos.
"It makes sense that these companies would be sniffing around," Kathman said. For some, he noted, the move would heighten their profile with consumers; for others, Priceline's name-your-price model would complement existing travel sales models.
"It all may depend on what Priceline's stock does in the coming weeks and months," Kathman added. "If it stays relatively depressed, the chances of a buyout increase."
For its part, the Norwalk, Connecticut-based company is not talking.
"It is Priceline.com's practice not to speculate on what the company may or may not do," company spokesman Brian Ek told the E-Commerce Times.
Lagging Behind
After flirting with disaster by expanding into markets that proved fruitless, Priceline put itself into position to be one of the great e-commerce turnaround stories.
But recent earnings reports have raised concerns among investors. Priceline has said that because of the recent drop in airline ticket prices, customers are coming to its site with unrealistic expectations, reducing the number of customer prices accepted by airlines.
And despite its widely known brand name, Priceline also is lagging behind competitors in terms of traffic.
According to Nielsen//NetRatings (Nasdaq: NTRT), Priceline was the twelfth busiest travel site in January, with an audience of about 3 million people. That figure put the company well behind Expedia, which led with an audience of 10 million, and Travelocity, which was close behind with 9 million.
NetRatings analyst Lisa Strand told the E-Commerce Times that while Priceline traffic is up more than 80 percent since last September, the leading travel sites have done a good job of consolidating their audience bases.
"A lot of travel companies and airlines are getting very good at using the Web to get the word out when they have deals available," Strand said. "It's a natural use of online advertising."
The Few, the Proud
Consolidation has picked up rapidly within the travel industry as a whole. For example, Expedia recently announced it has completed its takeover of Classic Custom Vacations, a provider of vacation package deals. Expedia itself has been acquired by USA Networks.
And Travelocity is trying to fend off a takeover attempt by Sabre Networks, which owns a majority stake in the company and recently tendered an offer that Travelocity said undervalues its stock.
Meanwhile, Priceline reportedly got a boost from one of its largest shareholders. Prince Alwaleed Bin Talal of Saudi Arabia announced on Monday that he has purchased US$100 million worth of Priceline stock as part of a $1 billion purchase of shares in several U.S.-based companies, including Citigroup and AOL Time Warner.
Prince Alwaleed previously had bought another $100 million worth of Priceline shares. The new purchase reportedly brings his stake in the company to more than 5 percent.