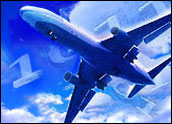 Name-your-own-price e-tailer Priceline.com(Nasdaq: PCLN) and online auction giant EBay (Nasdaq: EBAY)have inked a deal that calls for Priceline to offer itstravel booking engine on EBay.
"It is similar to the deal where Amazon last year signed on Expedia and Hotwire as partners," Forrester senior analyst Henry Harteveldt told the E-Commerce Times. "Where we see retailers rather than portal sites entering the travel space [is] where [it's] relevant for their brand. It's completely sensible for EBay to partner with Priceline because EBay is all about auctions and value, and Priceline is also about auctions and value."
The new travel serviceis set to launch within 90 days, according to MitchTruwit, executive vice president of operations at Priceline.
Size Matters
Two factors that make this a particularly smart move on Priceline'spart are EBay's size and the fact that itscustomers are comfortable with online auctions.
"From Priceline's standpoint, obviously they gain from exposure and traffic on EBay. They will gain distribution on EBay and will stand to find folks who are obviously value-conscious and deal-oriented," Harteveldt said.
Harteveldt added that the deal also will help EBay strengthen its standing as a leading retail marketplace.
"EBay obviously stands to enrich its position as the 900-pound gorilla of all things auction," he noted. "Whether you're looking to buy a ticket or to collect travel memorabilia, you'll go to EBay."
Travel Anchor
The auction giant said 42 percent of its users havepurchased online travel in the last year, generatingUS$8.4 billion in sales.
Priceline will be the anchor for EBay's travelbusiness, which currently lets users bid onairline tickets, hotels, vacation packages, cruisesand, as of last month, timeshare vacations.
With the addition of Priceline, EBay users will beable to book airlines, hotels, car rentals and cruiseseither via the usual Priceline method — in which usersspecify an itinerary and make a bid — or via EBay'sBuy it Now format, which actually gives shoppers aquote for their chosen travel product.
Light in the Darkness
The Buy It Now feature will be new for Priceline. Thesite currently does not offer price guidelines to shoppers, which sometimes causes users to place bidsthat are actually higher than published prices.
Because it provides a price quote rather than forcing usersto name an amount, the Buy It Now feature on the newEBay travel service will more closely resemble the shoppingexperience offered by Hotwire — an airline-ownedcompetitor to Priceline — in an effort to make EBaycustomers more comfortable using the service.
Reaching Out
With this deal, Priceline continues its push to reach every corner of the Web through partnerships with major online players.
In December, the company signed a deal with AOL tooffer its travel products on the site alongside Travelocity(Nasdaq: TVLY).
"I would not be surprised to see Priceline try to strike similar types of deals with other major, powerful online retailers," Harteveldt said. He cited Buy.com and Hotwire as well as discount retailers Wal-Mart and Target as potential partners for Priceline in the future.
"Don't expect to see Priceline start showing up on Sears' Web site or anything," Harteveldt added. "It's got to be a relevant story, and that's what makes the EBay-Priceline story so strong."