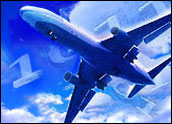 Discount online travel company Hotwire said Wednesday that sales and daily transactions have returned to the levels seen before the September 11th terrorist attacks on the United States.
Almost 1 million new users have registered with the year-old site since September 11th, "demonstrating the company's continued growth despite turbulent times," Hotwire said.
The site now has more than 5 million registered users, the company said.
Looking for Deals
Hotwire president and CEO Karl Peterson said the company has an advantage in tough economic times.
"More than ever, leisure travelers are looking to save money, and our supplier partners are looking to fill empty seats, hotel rooms and cars," Peterson said.
Hotwire, which launched operations in October 2000, says it has partnerships with 33 airlines, almost 2,000 hotels and three major car-rental companies. The site sells spare inventory for the companies, giving customers lower prices in exchange for flexibility on details like travel times and choice of airline.
Amazon Partnership
Last month, Hotwire joined Amazon.com as part of a new travel store on the Amazon site. Hotwire rival Expedia (Nasdaq: EXPE) is also a partner in the Amazon venture.
Hotwire, which started with a $75 million investment from American Airlines, Continental, United Airlines, US Airways, Northwest Airlines and America West, says it offers discounts of as much as 40 percent to consumers who are willing to be flexible.
The company's partners, meanwhile, hope to get revenue from inventory that otherwise would remain unsold.
E-Travel Returns
Two of the big online travel companies, Expedia and Travelocity (Nasdaq: TVLY) both recently reported quarterly results that topped expectations. Those expectations, though, were lowered after the September 11th attacks, as airlines were grounded, travelers scaled back their plans and the economy in general ground to a halt.
When United parent UAL (NYSE: UAL) on Wednesday reported its biggest-ever quarterly loss — $1.16 billion — for the period ended September 30th, chairman and chief executive officer John Creighton said the results reflect a "sharp falloff in both business and leisure travel" that is likely to continue into next year.
Still, the e-travel companies have said their business appears to be picking up, with sales of package tours, hotels and other products and services offsetting lower revenue from airline ticket sales.
The other major online travel company, Priceline (Nasdaq: PCLN), will report results after the close of trading Thursday. Analysts expect Priceline — which asks consumers to name the price they are willing to pay for travel, then finds a vendor to match the price — to earn 2 cents per share for the quarter ended September 30th, compared with a penny-per-share loss in the same period last year.