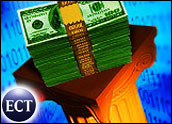 USA Interactive has announced it will launch simultaneous buyout efforts that could give it full ownership of three major e-commerce players: Expedia, Ticketmaster and Hotels.com. In total, the deals could be worth US$4.5 billion.
Each deal would involve an exchange of stock. USA said the takeover attempts should not be considered hostile, and the company valued each of its proposed targets at a 7.5 percent premium over Friday's closing prices.
Early Questions
But the buyouts may not be universally welcomed.
Expedia, which is trading only slightly below its yearly high, said it will form an internal committee to evaluate the offer and determine "whether it is in the best interests of Expedia's shareholders."
USA already owns 46 percent of Expedia. The company purchased most of that stake from Microsoft last year in a deal initially valued at $1.8 billion.
Under the proposed exchange plan, Expedia shares each would be worth $76.86, well below their 52-week high of more than $84 reached just weeks ago.
Great Deal
Hotels.com stock would be valued at $51.48 per share, and Ticketmaster at $22.99. Ticketmaster includes online dating service Match.com and local information site CitySearch.com.
"I think it would be a great deal for USA if they could buy out those companies at those prices, especially Expedia, but I'm not certain whether they'll be able to," Morningstar.com analyst David Kathman told the E-Commerce Times.
"If I were an Expedia or Hotels.com shareholder, I might like to see more of a premium for an unsolicited buyout offer like this."
Maturing Businesses
USA chairman Barry Diller said the unorthodox move represents a shift in the focus of his company's online endeavors, which were entrepreneurial in nature until now.
"It's time for us to begin acting in cohesive concert with all the parts of the enterprise, where all of our businesses are aligned and integrated," Diller said. "We have so much opportunity that the only barrier to our becoming a truly great company will be in our ability to execute the ambitious agenda in front of us."
Diller acknowledged that the offers may be seen as hostile or may raise questions about value.
"We believe a focus on the percentage premium we are offering is beside the point," he said. "The real premium comes in the opportunity for the shareholders of our public subsidiaries to become owners of an even stronger USA. We would be happiest if the result of this process is a single unified and aligned USA Interactive."
On the Move
The buyout move was announced just days after USA said it will buy Interval International, a provider of time-share travel arrangements, for $578 million. USA plans to integrate Interval with Expedia and Hotels.com.
The move also follows a path blazed by Sabre Holdings, which closed a deal to buy all of Travelocity earlier this year.
"USA already owns a majority stake in all three companies, so I'm not entirely sure how much difference it will make if they own 100 percent," Kathman said.
"But this is very similar to Sabre's tender offer for Travelocity a few months ago, so obviously these companies think it's worth their while to have complete control, for whatever reasons."