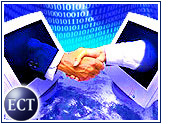 Not even the most optimistic observer is ready to declare that the dot-com shakeout ended in 2001. But it did slow down and start to take on a different look, as mergers, acquisitions and partnerships made headlines as often as high-profile failures.
Of course, those failures were unforgettable. eToys finally virtually expired in February and set an April shutdown after spending most of 2000 on a downward spiral. In July, online grocer Webvan closed up shop, after burning through US$800 million in an aggressive expansion campaign.
"One of the key highlights of e-commerce in 2001 was the weeding out of the weaker players," Morningstar.com analyst David Kathman told the E-Commerce Times. "While the weakest are already gone, I think some more may still fail in 2002."
However, even those dot-coms that did die, like eToys, often found life after death — following the e-commerce trend of deal, deal, deal.
E-Commerce Reincarnation
Software seller Egghead.com, which went bankrupt and then failed to close on a $10 million acquisition offer from Fry's Electronics, was reborn as an Amazon.com (Nasdaq: AMZN) property in December. Computer e-tailer Outpost.com did manage to close a deal with Fry's, after flirting for several months with another suitor, PC Connection.
But it was more common for companies to find creative ways to exit the dot-com landscape or keep their brands, many of which had been built with hundreds of millions of dollars worth of advertising and marketing, alive.
Low-price shopping site Buy.com, for instance, ended its run as a public company after being taken private by its founder, Scott Blum. And home grocer Peapod was absorbed by grocery giant Royal Ahold, taking Peapod stock off the market as well.
Blockbuster Deals
Some e-commerce companies also decided it was better to be bought by a competitor or a third party than to try to face the chilly capital markets alone — although at year's end, many of the biggest deals of the year remained to be signed, sealed and delivered, often because of external factors.
The year's biggest deal, worth $1.8 billion at the time, was USA Networks' acquisition of the majority stake in travel site Expedia.com (Nasdaq: EXPE) from Microsoft (Nasdaq: MSFT). That deal, which was slated to be closed in December, had to be postponed after 93 percent of USA's holdings were acquired by Vivendi Universal (NYSE: V).
Job site Monster.com was true to its name in 2001 as well, devouring much of the competition in an acquisition spree that included the takeover of Flipdog.com and European site Jobline.net.
But Monster's biggest prey, No. 2 job site HotJobs.com, for which Monster had offered $71.2 million in stock, remained in play as 2002 approached.
Bidding War
In mid-December, Yahoo! launched a surprise counter-bid of $436 million in stock and cash. Monster in turn questioned the value of the Yahoo! deal. HotJobs remained mum on the competing offers.
One potential complicating factor in the Monster-HotJobs union was the inquiring mind of the U.S. government. The Federal Trade Commission had required more information on the deal, a fact Yahoo! noted in its offer to HotJobs.
The FTC has also taken an interest in the proposed merger between two of the best-known and most widely quoted Internet measurement firms. NetRatings (Nasdaq: NTRT) said it would pay $415 million for rival Jupiter Media Metrix (Nasdaq: JMXI). That deal is scheduled to close early in 2002.
Changing the Channel
E-commerce also got creative in its dealings in 2001, with brick-and-mortar partnerships and multichannel marketing taking front and center.
Hoping to duplicate the success of its partnership with Toys 'R' Us, Amazon announced partnerships with Target (NYSE: TGT) and Circuit City (NYSE: CC) in 2001. Amazon also accepted a $100 million investment from AOL as part of a marketing partnership.
Portals looking to reduce their reliance on advertising dollars also sought to become solutions providers to media and consumer companies. Yahoo! (Nasdaq: YHOO) struck a deal with Sony (NYSE: SNE), Microsoft's MSN hooked up with Volvo and AOL (NYSE: AOL) struck a deal with Priceline.com (Nasdaq: PCLN).
The trend toward diversification and utilizing multiple retail channels — is one that will continue into 2002 and beyond, Kathman said.
"Eventually, there won't really be a separate category of e-commerce, distinct from commerce in general," he said. "We won't reach that point in 2002, but we started to move in that direction in 2001."