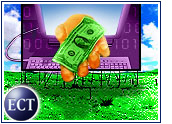 A bidding war for online job site HotJobs (Nasdaq: HOTJ) broke out late Wednesday, when Internet portal Yahoo!(Nasdaq: YHOO) said it offered US$436 million in cash and stock to buy thecompany, which in June agreed to be acquired by TMP Worldwide (Nasdaq: TMPW), the parent of rival firm Monster.com.
Yahoo! said it is offering $10.50 per share in cash and stock for HotJobs,which saw its stock price surge 62 percent in morning trading Thursday, rising $3.98to $10.45. TMP is offering to exchange 0.2195 of its shares for each HotJobsshare.
Yahoo! said its chairman and CEO, Terry Semel, made the offer directly toHotJobs CEO Dimitri Boylan. "We are making this offer to Mr. Boylan and theboard of directors of HotJobs and hope to commence merger discussions assoon as possible," Semel said. "Our offer provides HotJobs shareholders withsuperior value, less regulatory risk, and faster execution than HotJobs'spending merger with TMP Worldwide."
TMP shares were trading at $43.85, down $1.20, and Yahoo! shares wereat $18.28, down 86 cents, Thursday morning.
Board Approves Talks
HotJobs said that its board approved discussions with Yahoo! "onthe basis permitted by the agreement between HotJobs and TMP." At the same time, the company said directors had not changed its recommendation regarding the TMP agreement, which it said "remains in effect."
TMP, meanwhile, said it "reaffirmed" its commitment to the deal, saying itsoffer is "in the best interest of HotJobs shareholders."
Yet the TMP offer, which values HotJobs at about $415 million, is under review by the Federal TradeCommission. In August, federal regulators asked the companies for more information about the merger, which TMP said Wednesday is on track to close in the first quarter.
Moving Targets
Yahoo! has been working to diversify its business as online advertising, itshistorical source of revenue, has slowed down. Ventures announced inrecent months include high-speed Internet access under a deal with SBCCommunications (NYSE: SBC); paid search results through an alliance withOverture (Nasdaq: OVER); an e-book store; and videoconferencing services.
"The combination of Yahoo! and HotJobs has the potential to create apowerful new force in recruitment, which has been one of the fastestindustries to migrate online and is poised to grow substantially over thenext several years," Semel said.
Vertical Piece
Semel also said that online recruitment is "a valuable vertical segment" for the company, which is prepared to help HotJobs capitalize on opportunities in the marketplace.
Yahoo! said it would use its existing cash to finance the cash portion ofthe merger.