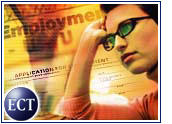 Monster.com parent TMP Worldwide (Nasdaq: TMPW) said Friday it will acquire competitor HotJobs (Nasdaq: HOTJ) in a US$460 million deal that brings the top two Internet job search sites under the same roof.
The deal, which has already been endorsed by both boards of directors, is expected to close sometime in the fourth quarter, assuming it receives shareholder and regulatory approval.
New York City-based TMP said it would continue to operate HotJobs, which is also headquartered in New York City, as a standalone brand that will become part of a larger strategy to tap new markets.
"What a leader does is expand the marketplace," Monster chief executive officer Jeff Taylor said during a Monday morning conference call with analysts, reporters and HotJobs employees.
Growth potential, Taylor said, exists in local job listings and in posting jobs for hourly wage, or so-called non-exempt workers, who make up two-thirds of the total workforce but have yet to be effectively targeted online.
New Markets
The acquisition also opens additional sales channels for TMP's other products, which include Yellow Page listings and direct marketing services.
Together, the two brands will also be used to capture more of the market for education and government jobs.
"We've only begun to scratch the surface in those areas," Taylor said.
Combined, Monster and HotJobs host about 14 million resumes and carry 650,000 job listings. By that measure and by sheer Internet traffic, the two will command a large portion of a marketplace that Forrester Research estimates will be worth $9 billion worldwide by 2005.
Brand Boost
The two companies said no layoffs are planned, though there will be consolidation in back offices, as HotJobs will immediately move over to Monster's call center and CRM (customer relationship management) technology.
HotJobs president and chief executive officer Dimitri Boylan said the deal made sense for his company. In addition to a financial package that places a 20 percent premium on HotJobs shares, the acquisition offers the potential to strengthen the HotJobs brand alongside Monster.
"These are two of the most powerful brands anywhere on the Internet," Boylan said.
No Review Expected
The companies said they do not expect a formal review from the Department of Justice on antitrust grounds.
"There are literally thousands of online recruiting sites and supposedly low barriers to entry," said James J. Treacy Jr., chief operating officer of TMP Worldwide.
Hungry Monster
The acquisition caps a three-month run during which Monster and TMP made a number of purchases both domestically and abroad.
In May, Monster bought Jobline International, a European professional search company for $115 million, giving Monster a hand in more than 20 international job search sites.
Days later, Monster acquired privately held FlipDog.com for an undisclosed sum, gaining access to FlipDog technology that uses a Web crawler to check internal corporate job postings on the Web. And in late June, Monster bought Middletown, Rhode Island-based CollegeLink.com, which will give Monster a presence in thousands of high schools nationwide.
"We said in the first quarter that we would look to take advantage of the economic slowdown and that's what we've done," Taylor said.
Taking Stock
To acquire HotJobs, TMP will issue .2195 shares of common stock for each outstanding share of HotJobs stock. TMP said it would issue 8.3 million shares, worth about $460 million, to cover the transaction.
The deal, which valued HotJobs stock as $12.21 per share, was announced after the close of trading on Friday.
In early trading Monday, TMP shares were off slightly to $58.50. HotJobs stock shot up nearly 40 percent to $12.47.