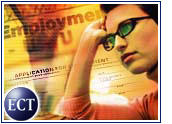 Monster.com has earned the title of top-rated online job search site,according to a report issued Wednesday byGreenfield Online.
The report is based on two surveys that both asked respondents to name the jobsite they visited the most and the best job site for finding "the right job." In both surveys, Monster.com handily beat out Hotjobs.com and Jobs.com by over 20 percent.
For respondents with four or more years of college education, Monster jumpedto a 30 percent lead over its competitors.Hotjobs.com and Jobs.com alternated second and third place in the survey results.
The new report also contained some potentially troublesome news for online jobsites: Just under 20 percent of respondents reported theyactually found a job using the Web. The percentage of job seekers who found a job using other methods was not reported.
"People are using the (online job) services, but so far it hasn't paid offfor them yet in actually landing a job," Greenfield's Gail Janensch told theE-Commerce Times. "But that didn't keep these people from having a strongpreference for using an online site."
Cool Tools
The job seekers also said — by a two-to-one margin — that online job search sites are a more effective tool than the newspaper job listings for finding a new or improved job.
"What people find attractive about these sites is that they offer a variety ofhelpful information and tools about the entire job search process, unlike anewspaper ad that really just offers one thing, a job," Janensch said.
Staying Put
As might be expected, the survey revealed that the No. 1 reason Web surfers use job sites is to scan for job listings that would not require the seeker to relocate, with 48 percent of respondents citing that reason. Only 28 percent scan for jobs that would require a move.
Forty percent of job seekers said they turn to online sites to read resume-building tips, and 31 percent said they go online to compare their current or potential salary compensation.
"A person could miss finding a job on the site, but find lots of other usefulinformation to come away with a very valuable impression of the site," said Janensch.
The two online surveys each drew responses of 1,000 or more adults.
Monster Moves
Monster.com has been a fixture among the lead pack of Internet companies sinceas early as 1999. The site joined the first wave of dot-com Super Bowladvertisers in January 2000, and was one of the few e-commerce companies to advertise again on this year's Super Bowl broadcast.
Part of Monster's strategy has been to grow through acquisitions, alliancesand partnerships. It struck a four-year deal with America Online (NYSE: AOL)in 1999 that gives AOL users direct access to Monster's job listings andcareer-related information.
In May, Monster.com said it was buying out one of its biggestcompetitors, Flipdog.com.