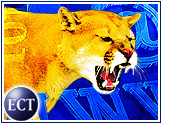 It was only a matter of time. One of the first questions posed by analysts during a conference call to discuss the takeover of HotJobs by Monster.com parent company TMP Worldwide was the antitrust question.
The answer came swiftly and without qualification: TMP expects its takeover to sail through regulatory approval without any hitches.
That might be the case, but it doesn't mean that Monster isn't a monster in the making.
One of the reasons that Monster.com types cite for being able to brush off antitrust worries is that there are "thousands of online recruiting sites." True enough. But the three largest are now owned by TMP, which bought No. 3 FlipDog just a few weeks before dishing out for No. 2 HotJobs, its closest competitor.
Crowd of One
In almost any business or industry, that type of consolidation would raise some eyebrows. But in this case, there may be even more reason to question whether so much market share under one roof is a good thing.
First, however, it's worth noting that Monster.com — and for that matter TMP — have been upstanding citizens of the e-commerce global community for a long time. Monster has given the Internet one of its best-known brands, thanks to the power of advertising. And the site has with ease of use and personalization features transformed itself into a powerhouse, the undisputed leader of the pack.
The problem is the pack that Monster is leading is now a virtual group of one. Whenever you see a company take over market space the way Monster has done, your attention is drawn. Then when that same company goes on a buying spree — like a teenager with a borrowed credit card — questions start to form.
But Monster has been smart, buying when the buying is good. Nothing wrong with being smart, is there?
Stomp, Stomp
OK, so what about the consumer. Don't job-seekers actually benefit from all this consolidation? Doesn't having just one place to look make it easier for people to find the jobs they really want?
Indeed it does, but in this case, Average Joe Job Seeker is not the consumer. You and I don't pay a dime for most of Monster's services. The corporations who list the jobs pay. And their choices are shrinking.
Sure, as Monster executives point out, there are other job boards out there. But that's like eBay users saying there are other auction sites. Sure, the other sites are out there, but they don't have a fraction of the audience.
Pulling the Lever
It's worth remembering that TMP isn't just in the job-board business. They also sell a host of other services to businesses, including Yellow Page listings and direct marketing programs.
Might TMP be in a position to leverage its dominance in the Internet job recruitment market to its advantage in other areas? If so, doesn't that type of leverage sound familiar? (Insert operating systems and browsers into the sentence above.)
Report Card
Monster is by most accounts a smart company that displays all the right qualities. Foresight. Aggression. Marketing savvy. A nose for the right time to buy.
But someone out there is going to have to determine where to draw the line between a company that's good and lucky — and one that's just too damn good. I'm glad it's not me.
What do you think? Let's talk about it.

---
Note:
The opinions expressed by our columnists are their own and do not necessarily reflect the views of the E-Commerce Times or its management.
---