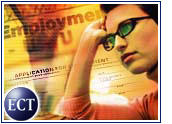 Job search Web site Monster.com helped parent company TMP Worldwide (Nasdaq: TMPW) beat analyst estimates in the secondquarter, as a weak economy resulted in more job changes, TMP Worldwide said Tuesday.
The New York City-based staffing and advertising company reported income adjusted for special items of US$36.1 million, or 32 cents per share, up from $24.3 million, or 22 cents, in the year-earlier quarter and ahead of the 30 cents expected by analysts.
TMP Worldwide chairman and chief executive officer Andrew J. McKelvey said the resultswere driven largely by Monster and were achieved despite "the difficulteconomic environment."
"As with any other U.S. company looking ahead, the economic climate remainsour biggest near-term challenge," McKelvey said. "However, we also believethat this market is providing a unique opportunity for us to continue toinvest in TMP Worldwide, and further differentiate our company from ourcompetitors."
Commissions and fees rose 11 percent from a year earlier to $383.61 million,boosted by revenue at the Monster unit. TMP Worldwide chief operating officer JimTreacy said the growth "is indicative of the market's increasing demand foronline recruiting products and services."
Class Act
Treacy said that as as companies seek to recruit skilled workers and cut costs in a slow economy, Monster's service "becomes increasingly attractive" relative totraditional help-wanted ads.
"We believe that this fundamental disparity will continue to fuel the industry's secular shift from traditional to online recruitment advertising," Treacy said.
Treacy added that TMP will continue to cut costs and "streamline" operationsthis year.
"While we were very satisfied with our results this quarter, we are clearly feeling the impact of the weak U.S. economy, particularly in our traditional lines of business," he said.
Monster Mash
At Monster itself, commissions and fees rose 64 percent from a year earlierto $142.2 million. The division saw an operating profit, adjusted forspecial items, of $36.1 million, up from $15.8 million.
Monster saw more than 6.5 million unique visitors during June, reaching 7.3 percent of Internet users, according to audience measurement firm Media Metrix.
"Despite our tactical decision to reduce marketing and promotional spendingin order to redirect a portion of this spending towards new productdevelopment and the continued build-out of our European sales staff,Monster's consumer awareness and loyalty has grown to record levels," saidMonster chief executive officer Jeff Taylor.
Acquisition Binge
In May, Monster acquired FlipDog.com, another career site, giving it access to that site's job postings from more than 50,000 employers seeking more than 600,000 workers.
Monster completed two other acquisitions — CollegeLink and FastWeb — in June, giving it the capability to offer information about colleges and scholarships. In addition, TMP bought Jobline International, an online recruiter based in Europe, in July.
Monster is also wrapping up the planned acquisition of HotJobs (Nasdaq:HOTJ), a rival online recruiter. The $460 million deal unites the two topInternet job-search sites.
In morning trading Wednesday, TMP Worldwide stock was up nearly 8 percent, improving $3.91 to $53.32.