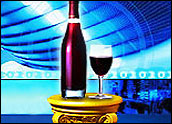 Yahoo! on Tuesday announced a multiyear deal with USWineAuction to bring the wine seller's entire inventory of collectible bottles to Yahoo's auction site.
Under the terms of the deal, USWineAuction will be the sole seller of wine on Yahoo's U.S. auction platform, and Yahoo! will distribute and promote the company's wines across its shopping network.
Rich Godwin, senior brand manager for Yahoo! Auctions, said growth in the online market for wine played a part in the company's decision to partner with USWineAuction.
"We are confident that through this relationship, we will provide our buyers with access to a wide selection of wines and competitive bidding for our sellers," Godwin said.
Going Large
For USWineAuction, the deal means it will gain a broader audience and a relationship with a trusted brand. The Yahoo! Shopping Network is the second largest e-commerce site on the Web, according to Nielsen//NetRatings.
"We have generally sold about half our wines at live auction and half online, but now our online sales will undoubtedly increase," said Gary Reiner, vice president of USWineAuction.
Regulations and Taxes
The sale of alcoholic beverages online is more challenging than most other products and services. Wines and other alcoholic beverages are highly regulated and taxed, and sellers of such beverages must be licensed.
In addition, it is more difficult online to discern whether a buyer is of legal drinking age. In some states, it is even illegal for sellers to ship alcoholic beverages to adult buyers.
Those hurdles, along with concern about whether sellers can clear them, led eBay to ban the sale of wine and other alcoholic beverages in 1999. But the auction giant lifted the wine ban last fall and also allows wine sales through its recent partnership with Sotheby's.
Customer Dissatisfaction
EBay's checkered experience selling wine online points to a customer service issue to which the online auction giant and its competitors must pay close attention.
Because of regulatory issues, there is potential for complaints from customers living in states where the sale of alcohol across state lines is prohibited.
"Customers come to the sites expecting to buy wine, and if it turns out they are in a state that prohibits the sale, then they may blame Yahoo! or eBay instead of the actual seller," Giga Information Group analyst Andrew Bartels said. "That creates customer dissatisfaction."
Yahoo! now has eliminated much of the regulatory red tape by partnering with USWineAuction, which is licensed to sell wine.
Posture Play
Still, some challenges remain. So why would Yahoo! Auctions, which has struggled since introducing fees last year, expend effort tackling this difficult online market? Analysts said Yahoo's foray into wines is a competitive move against eBay.
"Yahoo! would like to be seen as a more credible player in the online auction space that eBay has been dominating," Bartels told the E-Commerce Times.
It is difficult for any company to rival eBay, analysts said, but the online auction games — in which several big players like Amazon and Yahoo! are competing — will continue.
"This is an issue of gamesmanship," Bartels said. "Yahoo! is trying to create the perception of being different — or perhaps of being the same."