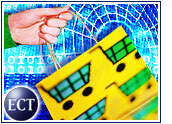 In an apparent bid to boost sales in some of its less popular departments, e-tail giant Amazon.com is rolling out a promotion that will give shoppers just one hour to buy specially discounted merchandise.
Each shopper will receive five "Gold Box" offers daily, but none of the discounts will apply to Amazon's core offerings of books, music and movies.
In fact, while offers are somewhat tailored for each shopper, a recent series of daily offers focused exclusively on items from Amazon's kitchen department. They ranged from a US$10 coupon toward a cook's knife to similar discounts on popcorn poppers and a set of stainless steel flatware.
Testing, Testing
Morningstar.com analyst David Kathman told the E-Commerce Times that Amazon has a strong track record of testing new features to discover what customers want.
For instance, the free shipping offer unveiled earlier this year has been deemed a success to date, and Amazon said last month that it will begin listing catalog retailers' items among its products for sale.
"I've generally been pretty impressed over the years with Amazon's ability to adapt to changing market realities," Kathman said. "If they try something out and there's a backlash, they'll back off, but if it works, they'll run with it. In six-plus years, they've gotten pretty good at guessing what consumers want online."
Pop-Up Offers
The Gold Box icon appears on a shopper's Amazon home page and throughout the shopping site.
Although shoppers will receive up to five offers per day, they may make only one Gold Box purchase in each 24-hour period. Also, shoppers must pass up an offer in order to see the next one. In essence, the promotion's goal is to motivate past buyers and browsers to shop more frequently and visit more Amazon departments.
It is probably no coincidence that most offers aim to entice buyers to the kitchen department, which, along with electronics, has showed disappointing growth as Amazon has expanded its product offerings.
In fact, during Amazon's bellwether fourth quarter, when it turned its first profit, sales dropped in its electronics, tools and kitchen segments, Kathman noted.
Drugstore in Fold
Also on Monday, Amazon said it has extended a long-standing marketing agreement with fellow e-tailer Drugstore.com. The new agreement, which extends through the first quarter of 2003, calls for Drugstore.com to continue to be featured on the Amazon site, and vice versa.
Amazon was an early investor in Drugstore.com, now one of the few remaining pure-play Internet health and beauty outlets.
Both promotions come amid increasing speculation about Amazons second-quarter financial performance. Published reports over the weekend called the companys stock valuation into question, causing Amazon shares to lose ground when trading resumed Monday. Amazon stock stood at $18 in early trading, well off its yearly low of $5.50.