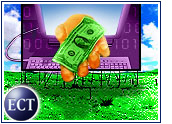 Cisco Systems is investing US$150 million in a global advertising campaign to increase awareness of what a high-powered corporate network can do for companies' bottom lines. The effort also is designed to position Cisco for growth in new business segments.
The campaign, which debuted in several newspapers, will blend television, print and online advertising and is based on the theme and tagline of "This is the Power of the Network. Now." It focuses on what are relatively new markets for Cisco, including network security, storage networking and voice and wireless communications.
The push is the first in a while for Cisco, which has been forced to hunker down as demand for its optical networking gear plummeted. Instead of focusing on Cisco's hardware, the new campaign emphasizes how the company's products can improve business performance.
In a nutshell, Cisco spokeswoman Amy Hughes told the E-Commerce Times, the company's marketing efforts are aimed at persuading key members of its audience to think about Cisco as more than a maker of networking gear while also building a strong brand image.
Building Blocks
The TV ads will debut this week during some of the highest-rated network shows, including "24" and "The West Wing." Although the ads are aimed primarily at corporate IT buyers, they are also designed to appeal to a wider audience.
Cisco signed advertising giant Ogilvy & Mather last fall to begin working on the campaign. The initial print ad, an eight-page insert, dedicated sections to security and to the idea that networks connect more than a company's computers.
Ready and Waiting
San Jose, California-based Cisco said it believes the campaign will position it to benefit from the first waves of increased IT spending by enterprises of all sizes. Many executives say there is pent-up demand for tech equipment, restrained by uncertainty about the economy as a whole and fears of war with Iraq.
"The timing seems right," Gartner analyst Mark Fabbi told the E-Commerce Times. "Their plan seems to be to put themselves at the front of the mind of tech buyers so when their budgets start to grow again, they'll turn to Cisco. That's not something you want to try to do after the upturn has already happened. There will be a lot more noise out there then."
Return to Investor
The campaign also addresses the most commonly asked question among CIOs and other IT decision-makers: whether or not technology outlays will improve business productivity.
For instance, the TV ads, which open with a voice-over saying, "Meanwhile, in…" and then focus on a particular business, are designed to show how a range of businesses can benefit from a more responsive computer network.
Although some tech companies have refrained from spending capital on marketing during the downturn, several new campaigns have been launched in recent months. For example, HP stepped up marketing efforts in a bid to calm concerns after its merger with Compaq went through, and eBay has become a fixture on network television with its "Do it eBay" ads.