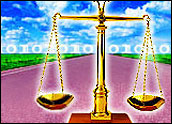 EMC and Hitachi have settled simmering patent infringement lawsuits with a long-term agreement that calls for cross-licensing and cooperative development of new technology.
As part of the deal, Tokyo-based Hitachi will make undisclosed payments to EMC, which first filed suit against Hitachi last April after Hitachi made a late but strong entry into the data storage business. Hitachi later filed countersuits.
The five-year agreement also calls for the two companies to cross-license some technology and team on mutual product releases in the future. They also agreed to a framework for exchanging technology related to application programming interfaces.
Both companies said the settlement fits with a trend toward open source in data storage, with enterprises increasingly expecting different vendors' systems to work together.
Fast Returns?
EMC spokesman Mark Fredrickson told the E-Commerce Times the original suit was filed after attempts to negotiate with Hitachi had failed. The lawsuit focused on software in its business continuity and remote storage product lines.
"We're happy to have it resolved in a way that preserves the principles we set out to protect," Fredrickson said. He said customers of both companies will start to see additional offerings quickly and that the five-year pact could be extended for a longer time frame.
Cutthroat Business
IDC research director Charlotte Rancourt told the E-Commerce Times that the storage market remains fiercely competitive and, with revenue decreasing through much of 2002, is likely to become an even more hostile environment.
At the end of 2002, IDC put Hopkinton, Massachusetts-based EMC at 13 percent market share and Hitachi at 6 percent for hard disk storage systems.
"Neither company could really afford to be dealing with this long-term," Rancourt said. "They have economic realities to face in their marketplace."
The settlement came just days before the U.S. International Trade Commission was scheduled to begin hearing a separate complaint from EMC on March 10th.
Washing Lindows
On another legal front, the long-awaited trial over whether Microsoft can claim ownership of the Windows trade name, and variations on it, will have to wait even longer. A federal judge has pushed back the trial date to the end of this year.
The delay came in conjunction with an order for Microsoft to turn over some 300 boxes of evidence for examination by Lindows, the Linux software firm that is defending itself against charges that it infringed on Microsoft's Windows trademark.
Lindows.com CEO Michael Robertson said the company is happy to have additional preparation time for the trial and noted that the new documents could add to "the mountain of evidence that demonstrates the term 'windows' is generic and not the exclusive property of any one company."
Picking Apples
In addition to the delay, Lindows sought and won access to documentation from the 1992 case in which Microsoft defended itself against legal challenges from Apple.
The judge postponed the start of a planned jury trial from April to December of this year. Last year, Microsoft lost a series of court rulings in which it had aimed to prevent Lindows from being marketed.
Lindows argues that "windows" is a generic term that was widely used before 1983, when the first version of Microsoft's desktop operating system was released.