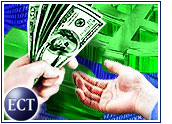 Two years ago, e-commerce was still in its growth spurt. It would go to sleep at night and wake up half again as big. And last year, e-commerce was supposed to be tested for real. No more growth hormones, just old-fashioned business practices.
But there were mitigating circumstances, such as tax rebate checks. Everyone from Amazon to Yahoo! rushed to give consumers an excuse to spend.
On the other hand, there was the September 11th fallout to factor in. And everyone had a different theory about that. People would want to stay away from crowds, so they would stay home and shop online. Or the anthrax scare would deter people from mailing an unexpected package to Aunt Millie.
In the end, of course, e-commerce did just fine. It grew more. And it did better than offline retail, which had only a so-so season.
Double Dipping
But now it appears likely that there will be a dark backdrop to this holiday season in the form of the economy. The stock market is back where it was last fall, which isn't good news, given how far it fell after September 11th.
Economists are using the expression "double-dip," and they're not ordering ice cream cones. Add it all up, and this might finally and truly be the year e-commerce gets its trial by fire.
Killer App Please?
One warning sign is that there is no killer electronic device, such as Sony's PlayStation 2, that everyone must have. DVD players, while still selling like hotcakes, are, well, so last year.
Of course, those two devices — PlayStations and DVD players — were manna to e-commerce in 2001 and before. What will take their place? If you said Segway scooters, you win the duped-by-hype prize.
Hopefully, there's a device on an R&D bench somewhere that's so awesome, everyone will dip into their depleted savings to buy one. But it doesn't seem so now.
So all of the people who bought DVD players in 2001 will buy Lord of the Rings or Austin Powers on DVD in 2002. That's $20 versus $150 or so.
What's My Motivation?
In 2001, there was a latent but very real belief that if you loved America, you'd spend — and spend and spend.
It was, the idea went, the best way to thumb our collective nose at the terrorists whose obvious aim was to disrupt the U.S. economy. So even though their friends and neighbors were holding pink-slip parties instead of going-public parties, consumers dug into their pockets and plunked down money.
A year later, that thought might still be valid. But how much deeper can people dig? They already need a miner's helmet to see how low their 401Ks have sunk. And the people who had pink-slip parties a year ago are no longer partying. They areconsidering taking that lower-paying, lower-prestige job because it's all they can find.
End Game
Is it really that bad? Probably not. Our president would likely call it a "challenging economic environment."
But that's the whole point. This time, e-commerce has no tax rebate buffers. No patriotic spending sprees to rely on. Now, it's just e-commerce versus the increasingly reluctant consumer.
What's e-commerce really got? We're about to find out.
What do you think? Let's talk about it.
---
Note:
The opinions expressed by our columnists are their own and do not necessarily reflect the views of the E-Commerce Times or its management.
---