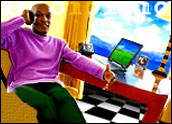 Leading travel sites have unveiled a slew of promotions in recent days aimed at boosting their hotel sales, in apparent recognition that long-slumping airline ticket sales might not soon recover.
Both Priceline and Expedia unveiled hotel service upgrades, and Expedia also beefed up its offerings for the hotels themselves, saying it would offer improved visibility and promotions on its site.
Forrester analyst Henry Harteveldt told the E-Commerce Times that the promotions might also be an attempt to solidify customer and merchant bases in the face of increasing competition.
Last spring saw the full-scale launch of Cendant's Trip.com. Cendant, which operates hotel chains Ramada Inn, Days Inn and Howard Johnson, said it planned to use a US$40 million marketing blitz to elbow its way into the travel space.
"The travel sector is growing, but there's only so much to go around," Harteveldt said. "There is a battle for turf on both the customer and merchant side."
Courting the Merchants
Expedia's latest offering is aimed at the hotels themselves, giving them the option of having their properties listed with 360-degree virtual property tours and neighborhood maps. Expedia's service also gives hotels the ability to update their room prices with timely discounts.
"Hoteliers wanted to identify ways to increase revenue per available room," said Lloyd Frink, Expedia's vice president of sales. "At the same time, travelers wanted help homing in on the exact property and experience for their individual needs."
Frink said Expedia now leads in hotel room stays sold on the Internet. Earlier this week, Expedia unveiled a promotion giving travelers the chance to get a free night by booking stays at certain hotels.
Courting the Travelers
On the same day, Priceline.com unveiled a hotel reservation system upgrade that includes a "best-price guarantee" and informational features similar to those on Expedia. Priceline said that it would relaunch its hotel platform behind a radio campaign featuring longtime celebrity spokesperson William Shatner.
Hotel room reservations have been increasingly important for online travel companies, particularly for Priceline, which has seen fewer of its customers' bids for airline tickets accepted due to steep price discounts already being offered to help win flyers back after September 11th.
Airlines Busy
Meanwhile, Nielsen//NetRatings said that recent days have seen a boost in traffic for airline Web sites as travelers hunt for last-minute bargains for late-summer getaways.
NetRatings said that traffic in the airline category rose 15 percent during the week ending August 4th. For instance, JetBlue Airways saw a 72 percent increase, while AA.com saw a 32 percent jump and Continental.com saw 31 percent more surfers than the week before.
"As the summer travel season winds down, surfers planning a final vacation getaway in August are shopping online for the latest bargains and deals," said Lisa Strand, director and chief analyst at Nielsen//NetRatings. "Online travel continues to be a strong e-commerce category despite the difficult climate this past year."
Some of the traffic spikes stem from promotions. For instance, Spirit Airlines saw its traffic jump the day after it announced that it planned to give away 13,000 airline seats on September 11th, a day that reportedly has seen a massive plunge in airline reservations.