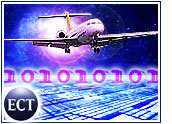 Expedia has rejected a takeover bid from USA Interactive, the online travel service's largest shareholder.
The snub was not entirely unexpected. Many company officials and shareholders had denounced USA Interactive's intentions to buy the remaining 37 percent of Expedia. USA Interactive head Barry Diller had extended a bid for the company in June andmet with resistance.
"Nobody likes to be taken over," IDC analyst Jonathon Gaw told the E-Commerce Times. "If it was a more enjoyable process, we would have a nicer name [for it]."
Aggressive Target
USAI has been aggressively targeting key companies to expand its reach. In June, it announced plans to pursue not only Expedia, but also ticket-sales giant Ticketmaster and Hotels.com.
Indeed, the entire travel industry recently has been characterized by a flurry of mergers and acquisitions. Earlier this year, Sabre Holdings announced plans to buy Travelocity, and Priceline snapped up the assets of flagging LowestFare.com.
Gaw said that bringing a group of companies together, as USAI wants to do "to make a better whole," is difficult enough in the offline world. But, he added, "it is particularly tough to pull off online because there is simply not much history to guide companies like USAI."
Under the terms of Diller's proposal, USAI Interactive would have exchanged 2.69 shares for each share of Expedia stock.
Amid Merger Fever
After Diller's initial offer for the remainder of Expedia drew immediate opposition from shareholders and the boards of directors, USAI curbed its plans.
At the time of the bid, Diller wrote in a letter that he would be "pleased to discuss [the merger] at any time — both with company management, as well as [with] a special committee of the company's disinterested directors, which [he expects] will be formed to consider this matter."
And shortly after USA Interactive backpeddled on its initial bid for Expedia, it issued a statement explaining its decision to hold back. "We recognize, however, that it will take some time for everyone involved to digest all the information, understand all the issues and work through the process," the statement said.
Better To Stand Alone
It was the special committee of the board that returned Expedia's latest negative reply to Diller's entreaties, saying that the travel company likely would grow more on its own than under USAI's wing. The committee noted that Expedia's stock already had begun to suffer as a result of the takeover news.
The stock price seemed to have "inappropriately become linked to USAI's stock price based on USAI's statements," the committee said, instead of trading at levels reflecting Expedia's potential.
"This management team has an outstanding track record of success and has shown its ability to simultaneously build the business at industry-leading growth rates, operate at high levels of profitability, and gain market share from key competitors," said Special Committee chairman Greg Maffei.
No Word on Future
There is no word on whether USAI will push forward with its plans despite the rejection. Gaw pointed out that since USAI already has a controlling interest in Expedia, "if they wanted to force the issue, they could."
But Diller's group probably would have to sweeten the pot. "They would have to pay more of a premium," Gaw said.
Expedia rejected USAI's bid just a day after it announced its intentions to buy Metropolitan Travel, a privately held business travel agency that caters to such corporate customers as Starbucks and Nordstrom.
The purchase will help Expedia enter the corporate travel market, which the company hopes will boost its earnings beginning in the third quarter.