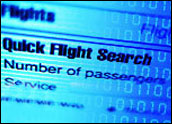 Priceline.com said it would not meet its own sales targets for the current quarter, pointing at the failure of an expected seasonal increase in airline ticket sales to materialize.
The name-your-price e-tailer said that second-quarter revenues would be about 5 percent below the company's previously stated range of US$320 million to $350 million.
Analysts polled by First Call had predicted sales of $330.5 million. Priceline emphasized that the figures would still represent a 16 percent increase over the first quarter, and said some sectors of its business, especially hotel sales, remain robust.
No Uptick
"Our earlier guidance was premised on steady monthly increases, which we have historically experienced in airline ticket revenue throughout the quarter," said chairman and CEO Richard S. Braddock.
"Such an increase did not occur in June, which is typically our strongest selling month of the year."
Shares of Priceline were hammered in early trading Wednesday, losing a full third of their value and falling to $2.53. The stock traded as high as $10 last summer.
Pricing Concerns
Since last fall, analysts have been watching Priceline for signs that its bind rate — or the number of customer prices accepted by airlines — would start to climb.
Because airline tickets have already been discounted — due in part to last year's September 11th disaster — more Priceline offers have been too low for airlines to accept.
"The June shortfall was primarily caused by pressure on the airline ticket bind rate and softer-than-expected customer demand, as difficult industry conditions persist," Braddock said.
Analysts suggest that Priceline needs airline ticket prices to rise for its business to show significant growth. To date, however, sharp increases in hotel and rental car sales have helped offset the lagging airline business.
Slipping Back
While it has a strong online brand and a lengthy, if checkered, Internet history, Priceline has watched as several larger rivals in the travel space have sped past to gain huge audiences.
According to Nielsen//NetRatings chief analyst Lisa Strand, Priceline now often falls outside the top 10 travel sites in terms of unique visitors, drawing only about 3 million users per month. In comparison, Expedia and Travelocity both attract closer to 10 million unique visitors monthly.
"We've seen shifts in the travel space where more people go to airline sites directly as well," Strand told the E-Commerce Times. "As consumers become more comfortable on the Web, they're going to where they think the best deals are going to be."
Double Whammy
The revenue warning comes on the heels of a decision by Northwest Airlines to stop allowing Priceline to sell its tickets. That decision came after Priceline moved into the fixed-price market, reducing its reliance on name-your-price sales.
Analysts say the move only poses a threat to Priceline if other airlines follow suit, which could force Priceline to abandon its fixed-price efforts.
In fact, the current quarter has been one of frantic business activity for Priceline.
In addition to rolling out a marketing partnership with eBay, Priceline bought the assets of onetime rival LowestFare.com and struck a deal with LastMinuteTravel.
Both moves were aimed at using the Web to drive more customers toward Priceline's offerings.