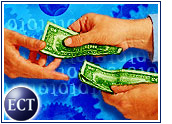 Priceline.com has bought the domain name and trademark assets of onetime competitor Lowestfare.com, which stopped selling airline tickets a month ago.
Terms of the deal were not disclosed, making its value difficult to judge, Morningstar.com analyst David Kathman told the E-Commerce Times.
"I'm sure the acquisition will drive some additional traffic for Priceline," Kathman said. "I don't imagine Priceline had to pay an exorbitant price."
Onetime Powerhouse
Founded in 1995 by financier Carl Icahn, Lowestfare quickly became one of the most widely used online travel sites. The company used Icahn's access to bargain TWA fares to drive traffic from both consumers and travel agents.
Icahn had big plans for the site, last year saying he would spend up to US$400 million to buy an airline and tie it into the online company.
But despite overall growth in the online travel sector, the site ceased airline ticketing operations in early May.
Priceline spokesperson Brian Ek told the E-Commerce Times that at its peak, Lowestfare drew 1.5 million visitors per month. As recently as April, as it was winding down operations, the site had more than 600,000 visitors, according to Nielsen//NetRatings Web traffic data.
As of early Thursday, the Lowestfare site once again was selling airline tickets, hotel rooms and rental car reservations using the Priceline booking engine. There is no sign of the Priceline brand, although a note tells visitors that a "brand new Website" is coming soon.
Brand Awareness
Priceline has not given any indication of what the move will mean to its bottom line.
"We like the brand," Ek said. "If you look at what [we have] been doing, you see Priceline growing a considerable online marketing presence."
Ek noted that Priceline cut a deal earlier this week to provide its name-your-own-price option to LastMinuteTravel.com. The company also has deals in place with eBay and AOL.
"When we first launched in the 1998 timeframe, we did almost no online advertising," Ek said. "It was expensive and you paid a premium for it, and, frankly, traditional advertising was more efficient. For a lot of reasons that has changed, and online makes sense now."
Online marketing now has "proven very efficient and effective for us," he added. "We get the lowest cost per travel unit sold, and we attract visitors who are already predisposed to buying online."
Let's Make a Deal
The Priceline deal is the latest in a feverish week of partnership announcements and buyout attempts.
USA Interactive kicked off the spree by saying it would bid to buy all of Expedia, Hotels.com and Ticketmaster, although analysts now say that deal is unlikely to happen as currently constituted.
A day later, Yahoo! expanded its relationship with Sabre Holdings and Sabre subsidiary Travelocity.
Not to be left out, eBay announced this week that it has created a co-branded site with Continental Airlines that allows customers of the airline to bid on items using their frequent flier miles.
"There will continue to be more consolidation as long as the online travel industry continues to be so healthy," Morningstar's Kathman said, "although at some point all the best deals will have already been made and companies will have to rely on internal growth."