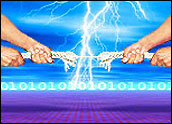 Northwest Airlines has discontinued its relationship with online travel auctioneer Priceline.
Northwest Airlines spokesperson Mary Beth Schubert confirmed that the company has discontinued providing Priceline Net fares, but declined to comment on details of the decision.
The airline reportedly is concerned by changes in Priceline's business model, which was recently modified to include a fixed-price option. But analysts said they suspect the real reason may run deeper, since Northwest holds an undisclosed ownership share in Priceline rival Hotwire, which began using a fixed-price model long before Priceline.
Priceline executives did not return calls seeking comment.
Buy It Now
Priceline added its fixed-price option in February through a deal with eBay. The fixed-price plan gives customers more control over airfares by allowing them to purchase airline tickets and reserve hotel rooms and rental cars at predetermined prices.
About half of Priceline's eBay inventory is available at a "Buy It Now" price, according to the company.
Some analysts said they see Priceline's addition of this feature as a move away from the "name-your-own-price" business model that first made the company successful. Others contend that Priceline was forced to move in this direction to compete with up-and-coming rivals.
New Players
"The presence of Hotwire and Orbitz is a significant step in the evolution of the travel space because it has put more pressure on Priceline," Nielsen//NetRatings senior analyst Jarvis Mak told the E-Commerce Times in an earlier interview. "Competition is forcing Priceline to meet the challenge and provide a fixed price."
While Priceline is still the leading discount travel provider, upstarts like Hotwire and Orbitz, as well as established Web travel players like Travelocity and Expedia, are stealing market share from the company. Priceline reported declining revenue and stagnant growth in the first quarter.
No Big Deal
Morningstar analyst David Kathman told the E-Commerce Times that Northwest's departure is "no big deal" for Priceline, but could cause problems if other airlines decide to follow suit. Kathman added that he does not anticipate a mass exodus by airlines.
"Priceline provides a valuable service to the airlines by allowing them to sell excess inventory that would otherwise go unused, but the airlines don't want to be competing directly with Priceline in selling fixed-rate fares," he noted.
In terms of revenue, analysts said the fixed-price model is a good strategy that should boost margins at both eBay and Priceline. But it is a delicate balancing act: Too-high prices could drive away customers, and the initiative also could alienate airlines.
"If a lot of other airlines started to object, I think Priceline would get rid of the fixed-rate fares because they need to keep the airlines happy," Kathman said.