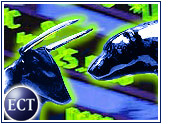 As the stock market searches for solid ground, testing lows set after September 11th and bracing for another uncertain earnings season, those who watch the tech economy say the question of how to value technology stocks remains a riddle.
Even with a growing number of Internet companies posting profits — some even on a consistent basis — the question of which measurements to use to evaluate the real worth of companies' shares is not easy to answer.
And it is harder than ever to judge dot-com stocks as a group.
"It's very hard to value these stocks because so much of their value depends on future growth, which is very hard to predict," Morningstar.com analyst David Kathman told the E-Commerce Times.
Mixed Bag
Kathman said that according to current prices and his analysis, eBay is probably overvalued at its Tuesday price of $62; Amazon and Expedia are priced about right at $17.50 and $64.80, respectively; and Hotels.com at $43.40 and Pricelineat $3.60 are undervalued.
"Just as the market can still get overly optimistic about a dot-com stock, as I think happened with eBay, it can also get overly pessimistic," as with Priceline, Kathman said. "As an analyst, all I can do is figure out what projections seem reasonable to me, based on my four years of observing the development of e-commerce and my knowledge of the risks ahead."
Narrowing Focus
Indeed, analysts say that if anything was learned in the dot-com bubble, it is that investors should focus on individual stocks — or at least industry categories — rather than trying to consider the entire Internet economy at once.
US Bancorp Piper Jaffray senior analyst Safa Rashtchy told the E-Commerce Times that travel stocks warrant individual attention, particularly since they held up well after September 11th, when many thought the entire travel industry would suffer badly.
"No one formula applies to all stocks, whether it be online or not," said Rashtchy, who covers a range of stocks, from Amazon to Yahoo, and places a range of valuations on them. "Some are still growing rapidly; others have moved into a profit stage. It makes it harder for the investor to approach the industry as a whole."
Mother of Invention
Even as the Internet landscape has changed dramatically, the question of how to value dot-com stocks has always perplexed both analysts and investors.
Ezra Zuckerman Sivan, a professor of management at the Stanford Graduate School of Business, said analysts once clung to basic data such as Web page hits, moved on to consider traditional measurements and even considered developing new ways to measure Internet stocks.
"Analysts and companies agree that current measures are more useful for contrasting differences among stocks than for developing meaningful valuations," Sivan said in a recent study.
Falling Down
In fact, analysts say, traditional measures often fail when applied to dot-coms.
Kathman cited eBay, long the darling of Internet investors and analysts, as one example: The company's shares currently trade at about 20 times 2001 sales, 150 times 2001 earnings and 80 times 2002 estimated earnings.
"Only a handful of other companies with market caps of at least $1 billion trade for around 20 times sales, and a bunch of them are biotech companies with no earnings," Kathman said.
"To justify its price, you have to project some pretty aggressive growth and profitability assumptions many years out into the future, and I'm hesitant to do that for anything Internet-related."
Complicating matters is a changing competitive landscape, with online sales increasingly being grabbed by brick-and-mortar companies that might once have spun off their online divisions.
While multichannel retailing is considered the inevitable evolution of online sales, it is exceedingly hard to measure, analysts say.