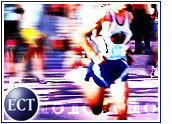 Sometime over the holidays, Henry Blodget packed up his box and officially left Merrill Lynch, where he had been the lead Internet stock analyst. Blodget, who some pundits have all but blamed for single-handedly causing the dot-com bubble, has left behind a life of touting Yahoo!, Amazon, eBay and others for greener pastures.
But he leaves behind more than just a legacy. More than just a reputation for putting out positive and upbeat reports on dot-com stocks. He leaves behind a vacant niche in the e-commerce world. The industry's chief cheerleader has left the building.
Blodget is reportedly going to write a book. Maybe he'll give one last cheer there, but my guess is he'll ruminate on the past more than anything else. Already, 1999 and the year or so before has taken on a mythic quality in many memories, as a time when stock prices magically broke through glass ceilings day after day.
Day by Day
Of course, now it's 2002, and the present and future are what matter most. Even if Blodget were still around, his forecasts would forever betaken with a grain of salt.
Yes, he got Amazon right back in 1998, correctly predicting it would nearly double to $400. But then he was also the guy recommending that you, me and our local plumber should buy into eToys and Pets.com.
In other words, his star was still bright, just not as bright as before. Not that Blodget was pushed aside by Merrill Lynch, of course. He took a buyout and pocketed an estimated US$2 million, which he is no doubt investing wisely.
Blame Game
Just how much of a role Blodget had in creating the bubble is open for debate, and an interesting one at that. According to some reports, Merrill settled a lawsuit with a client who bought a Web stock that tanked based on his recommendation. But there was plenty of blame to go around.
He was, however, an influential and widely quoted analyst at one of the most prominent investment houses in the world. To put it bluntly: When he spoke, people listened. Institutional investors first and the mom-and-pop investors of the world later.
Now that he's tied to his word processor, Blodget cannot root for the home team the way he did on the way up and, to his credit, through some pretty rough times as well. Blodget made a great cheerleader because he was, at the core, a true believer.
He believed that the Internet would change the world. He may still believe it. The time frame, though, he may now be questioning. But then, aren't we all?
Lasting Faith
As proof that he still has faith, Blodget's last-ever report at Merrill Lynch was about Yahoo! (Nasdaq: YHOO). And, true to form, it predicted a better 2002 for the portal, with some modest recovery in advertising income and some results from its efforts to diversify its revenue stream.
The Yahoo! report was a welcome reminder that what seemed to be a sprint race has turned into a marathon. In other words, no one can be declared a winner just yet, and no one has lost yet either. But as the race wears on, it's going to be important that other voices come forward to replace Blodget's.
Without some fans encouraging us along the way, it could be a long, cold race.
What do you think? Let's talk about it.
---
Note:
The opinions expressed by our columnists are their own and do not necessarily reflect the views of the E-Commerce Times or its management.
---