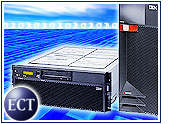 Further entrenching itself in the open source software market, IBM (NYSE: IBM) has inked a multiyear deal that calls for the technology giant to offer Red Hat's (Nasdaq: RHAT) top-of-the-line Linux operating system as an option on all of its eServer machines.
Specifically, Red Hat will deliver its Linux Advanced Server software to run on IBM's eServer zSeries, iSeries and pSeries. The software already runs and is supported on the IBM eServer xSeries.
In conjunction with the expanded availability of Red Hat's high-end OS, IBM Global Services will expand its support of that software across the entire eServer product line. The companies also plan to provide joint support and services and will team up to package their consulting offerings.
In addition, IBM will release software that will run on the new Linux platforms, including WebSphere, DB2, Tivoli and Lotus. Those programs will join 60 other middleware products the company already offers.
"This announcement and global alignment with all major IBM business units moves Linux into the enterprise mainstream," Red Hat chairman and CEO Matthew Szulik said.
Linux Market Expands
"This is a logical step for both companies," Dan Kusnetzky, vice president of systems software research at IDC, told the E-Commerce Times.
For IBM, extending its Linux offerings means it can sell more services and hardware, according to Kusnetzky. Meanwhile, Red Hat will benefit from IBM's ability to reach a larger market, as even a small gain for IBM can translate into a large increase for Red Hat.
Yet, although IBM and Red Hat have focused on enterprise migration to Linux to replace Unix or Windows, Kusnetzky said he believes the open source OS has created a new niche for itself in the areas of financial services and healthcare modeling "to help make strategic decisions."
"Most organizations have a portfolio of systems, each doing different things. So the mainframes still have their place, the Unix systems still have their place, Windows systems have another place, and Linux is taking its place among others," Kusnetzky noted.
"The reality is that old technology does not necessarily get retired just because new technology gets installed," he added.
MS Licensing Spurring Change?
For smaller companies, the switch to an open source environment is often motivated by frustration with Microsoft and a need to decrease costs.
For example, in the wake of Microsoft's recent move to a new licensing structure, under which companies pay a monthly fee to use the company's products and can upgrade at any time, at least one survey has found that companies are looking for alternatives to Windows.
According to the survey, conducted jointly by Sunbelt Software and the Yankee Group, 38 percent of respondents considered Microsoft alternatives, such as Linux and Mac OS, since the company's new licensing structure was announced.
"There is a much larger group that is installing Linux and installing Macs alongside traditional Windows desktops," Yankee Group senior analyst Laura DiDio told the E-Commerce Times in an earlier interview. "We are seeing more diversification, but it's very controlled. It's for certain specialized applications."