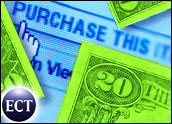 Shaking off fears of continued economic malaise, roughly 37 percent ofonline consumers are expressing confidence that the holiday shoppingseason will be a strong one and plan to spend more as a result, according toa study released Monday by the Boston Consulting Group (BCG) and Harris Interactive.
"We believe confidence is contagious," said BCG vice president andbusiness-to-consumer (B2C) analyst Peter Stanger. "Consumers look to theirneighbors to set their mood. Consumer confidence is on the rise."
The number of confident e-shoppers is more than double the number of online buyers who reportedbeing distressed by the current financial outlook.
In many cases, the studysaid, consumers who fell into the worried category had experienced a layoff or seen family members lose their jobs, and had not yet rebounded from theblow to their household income. Conversely, only 11 percent of the confident consumers had been pink-slipped or experienced a decline in their personal income.
Middle of the Road
Falling in the middle of this continuum are consumers who are in theprocess of recovering from the unsteady economic forecast, theresearch groups said.
With approximately 48 percent of respondents fallinginto this segment, the study predicted that these Internet shoppers willsoon return to normal spending levels.
Pleasing Everyone
In order for retailers to make significant inroads with online consumers,BCG and Harris Interactive — which surveyed more than 4,500 U.S. adults –said sellers must recognize the polarization of the spending market andtarget their holiday offerings accordingly.
For example, the report said, this may require retailers to create a range of pre-packaged, moderatelypriced basics for the distressed segment, while balancing the merchandiseselection with more exotic gifts geared toward the confident segment.
"Educated, higher-income, employed consumers are planning to spend more,they're traveling again, and they're facing the world with confidence," saidBCG senior vice president Michael Silverstein. "The less-educated, moreeconomically vulnerable population is still scared."
Added Silverstein: "While there's no question this is a challengingenvironment for retailers, the smart ones will merchandise their stores toserve both segments. It creates the chance to approach these two segmentsof consumers with product assortments built to meet their specific needs andbudgets, and in so doing increase sales."
Jumping Online
According to the study's estimates, more than 109 million people areexpected to purchase goods or services via the Web this year. More than56 percent of those surveyed plan to spend the same as or more than they did last year.
Moreover, the 68 percent of consumers who said they will purchase giftsonline intend to spend a higher proportion of their holiday budget online — 27 percent compared to last year's 22 percent.
Back and Forth
The research groups concluded that multichannel retailers will have a"competitive advantage" over other marketers in terms of capitalizing onthis upswing.
"The more of a retailer's channels consumers visit, the more likely they areto purchase from that retailer," said the study. For instance, among thosein the recovering segment, roughly 80 percent of prospective clothingpurchasers who visited both a Sears (NYSE: S) store and Sears.com said they plan tomake a purchase at the retail giant.
In contrast, 61 percent of shoppers who visited only a brick-and-mortar Sears store and 63 percent who only logged onto the Web site plan to buy from the company.
By Web Alone?
In light of these findings, BCG and Harris Interactive concluded that "thisyear more than ever before, simply having a Web site isn't sufficient." Consumers tend to gravitate toward retailers that provide a consistent and convenient cross-channel shopping experience.
In fact, the study said, consumers who search for a gift at one company'sWeb site end up purchasing the product from another company's store or Web site 35 percent of the time.