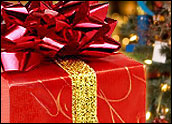 Yahoo! (Nasdaq: YHOO) and Amazon.com (Nasdaq: AMZN) both reported that online sales over the Thanksgiving weekend showed a marked increase over last year.
After much speculation over how the economy and the terrorist attacks might affect e-commerce, hopes were raised for a robust online holiday when Web shoppers started buying in volume from the dominant Web sites.
Over the three-day weekend following Thanksgiving, Yahoo! Shopping posted a 75 percent increase in sales compared to the same period last year.
"Video games have risen to the top of our most searched-for and purchased items. That's the Xbox, the GameCube and PlayStation 2, in that order," Yahoo! Shopping spokesperson Stephanie Iwamasa told the E-Commerce Times.
Harry Potter and Barbie are also on top of the sales charts, she said.
According to Iwamasa, Yahoo! Shopping is "extremely optimistic" moving into the rest of the holiday season and expects double-digit growth for the holiday season over Christmas 2000.
All About Harry
Of the 25 top-selling items at Amazon.com, five are Harry Potter-related products, including the boxed set of the four Harry Potter books.
Amazon also said that DVD players and DVDs, including "Shrek" and "Star Wars: Episode 1 – The Phantom Menace," are top sellers.
In the toy category, the Air Snares Drum from Mattel (NYSE: MAT) was the top seller at Amazon, beating out a Harry Potter board game.
Old and Newbies
According to Yahoo!, the online shopping surge over the weekend included a healthy combination of existing customers and new Web shoppers.
"The holidays are a time of year when the light Internet users often make their first online purchases," Iwamasa said.
The portal's shopping unit enjoyed an increase in the number of big-ticket items being purchased and a higher dollar amount per transaction, she said.
Bits and Pieces
Although e-commerce is a small part of the overall retail picture, it is one of the fasting growing sectors.
"In addition to the holiday shopping season, the overall growth in e-commerce can be attributed to the fact that more people are becoming comfortable with shopping online, and the fact that more people are going online, even though there is a softening economic picture," Iwamasa said.
More To Come?
The Thanksgiving weekend, although a good indicator of things to come, is not the biggest holiday shopping period for e-commerce sites.
"Typically, about two weeks before Christmas is when online shopping sees the biggest spike in sales," Iwamasa said.
Shares of both Amazon and Yahoo! were up Monday as investors started to believe that there would be a solid online holiday season. Amazon was trading at US$11.05 late Monday, up $1.97. Yahoo! shares were trading at $17.23, up $1.50.