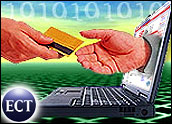 Credit card giants Visa, MasterCard and American Express (NYSE: AXP) said Tuesday that they have joined forces to form the Mobile Payment Forum. The forum will work on creating technical standards for mobile e-commerce to authenticate cardholder identities and provide a secure way for consumers to make purchases from their mobile phones, personal digital assistants and other devices.
"To date, mobile commerce has failed to meet the needs of consumers, including the capability of handsets and the speed of wireless networks, and the content providers have not figured out what consumers want to purchase when they are mobile," Joe Chouinard, vice president of new e-commerce channels at e-Visa International, told the E-Commerce Times. "Also, the lack of secure transactions has inhibited the growth of mobile commerce."
One of the primary goals of the new nonprofit group will be to standardize payment features and promote secure m-commerce for an industry that is still in its infancy.
Tough Bridge To Cross
While credit cards are the dominant form of payment on the Internet, credit card providers have not been able to translate that dominance to the wireless environment, where it is not so easy to register with merchants and enter expiration dates, billing and shipping addresses into a phone using only a numeric keypad.
Typically, mobile payment systems have been developed in isolation by banks, handset manufacturers and vendors. The forum hopes to bring those stakeholders togetherto build an infrastructure of features and functions in order to reach a broader audience.
Translation Wanted
The forum said its work will cover both existing and emerging technologies, including public key infrastructure (PKI), symmetric key, biometrics, wireless application protocol (WAP) and short message service (SMS).
"It is not easy to translate the experience had on a PC to a mobile phone, because not everyone has browsers and WAP on their mobile phones," Simon Pugh, vice president of infrastructure standards and alliances at MasterCard, told the E-Commerce Times.
"And, unlike the Internet, where you can be sure that you have a secure SSL connection with a merchant, that is not certain on a mobile phone," Pugh added. "Mobile has its own idiosyncrasies and requirements for e-commerce."
Covering All Bases
Focusing on the promotion of credit card transactions via wireless devices, the forum will address key areas such as interoperability, passwords, cardholder authentication and encryption methods.
The credit card giants plan to work on enabling disparate systems and technologies to work together, reducing industry fragmentation and establishing a more stable environment for vendors to develop products.
The forum's members will include financial institutions, telecommunications operators, wireless device manufacturers, merchants, content providers, and software and hardware developers and vendors.
Technicalities, Technicalities
The forum's work will be carried out primarily through its technical committee, which will discuss and develop requirement documents, white papers, use cases and technical specifications for m-commerce payments.
"The fact that there is no physical card (in mobile transactions) is a challenge, but we feel confident that we can build an infrastructure for guaranteed payments in the mobile space," Pugh said.
Specific first-year goals will focus on cardholder authentication, general device security, transport security and consumer convenience and usability, the participants said.
Don't Be Afraid
"There has been a reluctance to invest in mobile commerce technologies because there is a fear that it is not stable," Pugh said. "Everyone wants to back a winner, and they do not want to back an emerging technology that is not going to become a standard," Pugh said.
"One of the things that will come out of the work that [the forum] will do is that vendors will see that there are stable technologies and standards for mobile e-commerce that they can invest in," he added.